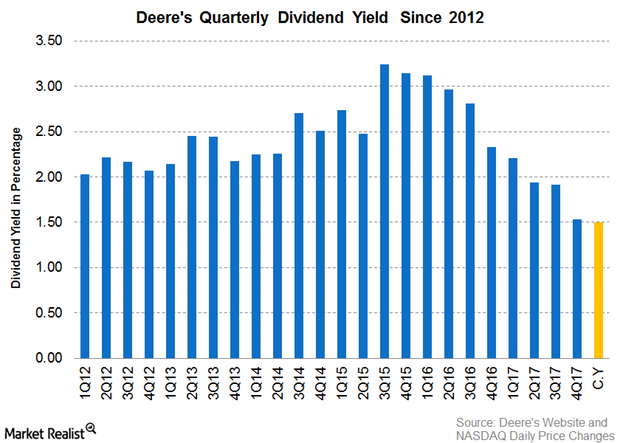 Could Deere Still Attract Long-term Investors?
By Peter Neil

Mar. 23 2018, Updated 7:34 a.m. ET
Deere's dividend yield
A dividend yield is the return investors get for every dollar they invest in a company's equity during their holding period. Long-term investors tend to prefer stocks with a high dividend yield and good dividend growth, as well as capital gains. Dividend yields can provide steady income for long-term investors.
As of March 21, 2018, DE's dividend yield was 1.5%, the lowest in the past six years on a quarterly basis. Peers Caterpillar (CAT), AGCO (AGCO), and CNH Industrials (CNHI) have dividend yields of 2.0%, 0.9%, and 1.1%, respectively, with only CAT having a better yield than Deere. DE's dividend yield is lower than that of one-year Treasury bonds, which can be classified as risk-free returns. As a result, DE may be less attractive for long-term investors seeking higher dividend yields, and they may not consider it an investment option.
Article continues below advertisement
Why Deere's dividend yield is falling
Deere's dividend yield began its declining trend in 4Q15 and has been sliding since. DE's dividend yield has fallen primarily because of Deere's stagnant dividend growth and its stock price more than doubling since 3Q15. If the trend continues, its dividend yield will decline further. To prevent the slide, DE may wish to increase the dividend rate, though it cannot afford to do so with its present free cash flow. Investors seeking indirect exposure to Deere could consider the iShares MSCI Global Agriculture Producers ETF (VEGI), which had invested 11.3% of its portfolio in Deere as of March 21, 2018.