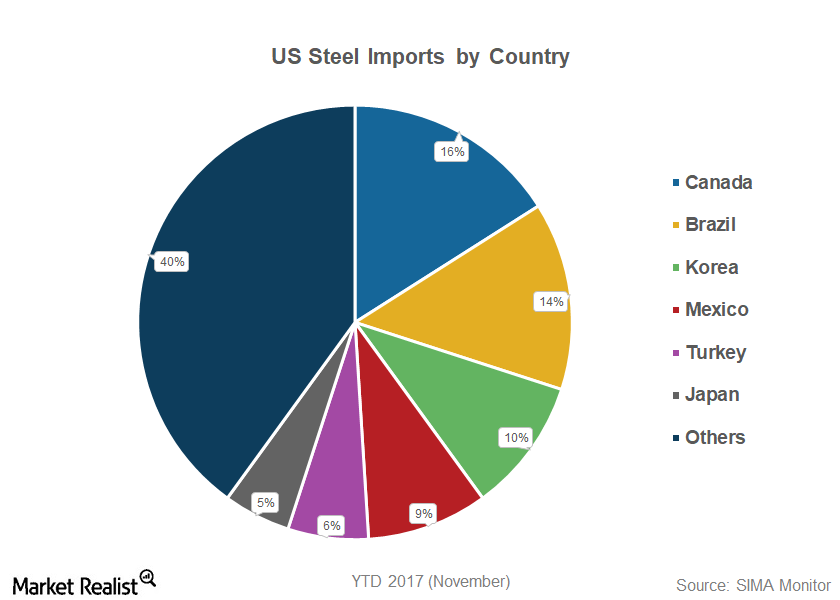 Why 'Carpet Bombing' May Not Be the Best Approach for the US Steel Industry
By Mohit Oberoi, CFA

Feb. 28 2018, Updated 7:32 a.m. ET
A flat tariff, in military terms
The US Commerce Department has recommended a flat tariff against all steel imports as one of the options under the Section 232 imports probe. Notably, the Section 232 imports probe was specifically meant to investigate whether steel imports threaten national security. In military parlance, such an approach would qualify as "carpet bombing."
A flat tariff, as recommended by the Commerce Department, would also cover NAFTA (North American Free Trade Agreement). To be sure, President Trump has never been a big fan of NAFTA. The agreement came under severe criticism during Trump's election campaign, and Trump has said that NAFTA is "the worst trade deal ever" and that he's working to renegotiate the deal.
Article continues below advertisement
NAFTA
Canada is the single largest steel exporter to the United States (X) (AKS). In the first 11 months of 2017, Canada accounted for 16% of total US steel imports (NUE) (STLD). Mexico accounted for another 9%. However, while NAFTA is the largest steel exporter to the United States, the region also accounts for the bulk of US steel exports.
According to the US Department of Commerce, in the first nine months of 2017, NAFTA accounted for 83% of US steel exports. Although the percentage has fallen compared with the corresponding period in 2016, NAFTA is the biggest destination for US steel exports, and in the first nine months of 2017, the US shipped 1 million metric tons of steel each to Canada and Mexico.
Opportunity or threat?
Interestingly, the AISI (American Iron and Steel Institute) sees NAFTA as more of an opportunity than a threat. According to Kevin Dempsey, AISI's senior vice president, "NAFTA has largely been seen as a success for the North American steel industry, providing increased access to our two closest markets."
Dempsey also said that "NAFTA is the only region of the world in which the United States has a positive trade balance in steel."
In the next part of this series, we'll discuss further reasons why the "carpet bombing" approach might not be the best approach for the US steel industry (XME).