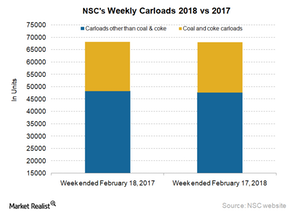 Inside Norfolk Southern's Railcar Traffic Mix in Week 7
Norfolk Southern's railcar traffic
Major Eastern US railroad Norfolk Southern (NSC) reported a very marginal loss of 0.2% in carload traffic in Week 7 of 2018. The company hauled ~68,000 carloads in that week.
The carload loss posted by Norfolk Southern was lower than the 0.6% fall recorded by US railroads (GWR). Compared with rival CSX's carload change, the decline in NSC's carload traffic was much lower than Week 7 of 2018.
In the seventh week of 2018, carloads other than coal (BTU) and coke comprised 70.0% of total carloads whereas coal and coke carloads comprised 30.0%. This carload traffic declined 1.2%.
From 48,200 carloads in 2017's Week 7, Norfolk Southern hauled 47,600 units in 2018. However, coal and coke carloads saw a 2.1% expansion in volumes touching 20,300 units from nearly 20,000 units in 2017.
Article continues below advertisement
Progressing and regressing commodity groups
The carload commodity groups that saw rising volumes were:
chemicals
grain mill products
petroleum products
pulp, paper, and allied products
The volumes of these carload commodity groups were in the red zone:
crushed stone, sand, and gravel
grain
iron and steel scrap
metals and products
motor vehicles and equipment
NSC's intermodal volumes in Week 7
Norfolk Southern's intermodal volumes were up 8.3% in the seventh week of 2018. The railroad hauled around 85,000 containers and trailers in the week, up from 78,500 units in 2017.
Containers accounted for ~91.0% of total traffic while trailers' share was 9.0%. Container traffic was up 7.6% to 77,000 units in 2018 from 71,500 units in 2017. Trailer volumes went up 15.6% to ~8,000 units from 6,900 units in 2017.
On an overall basis, Norfolk Southern recorded a 4.3% railcar traffic gain in Week 7 of 2017. This was slightly higher than the gains reported by US railroads (FXR) in that week.
In the next part, we'll focus on CSX's (CSX) railcar traffic.