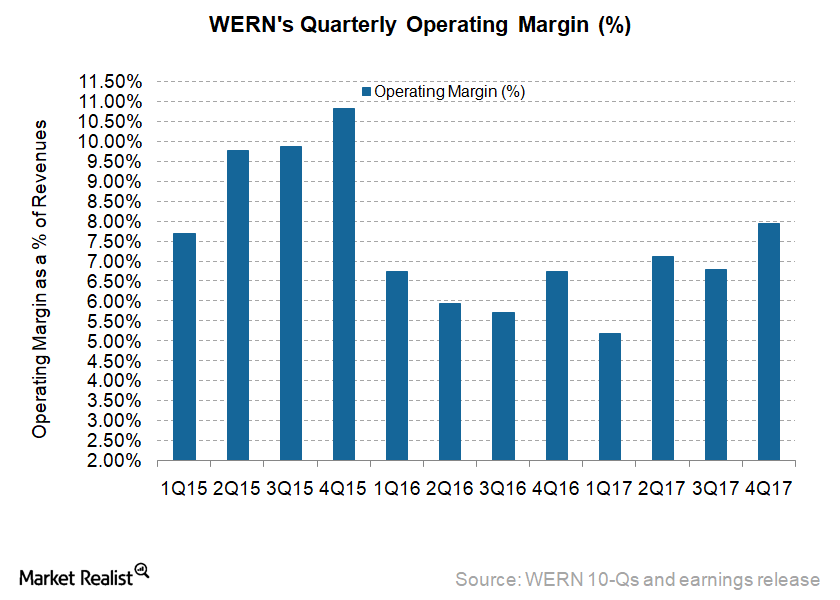 What Happened to Werner Enterprises' Operating Margins in 4Q17?
By Samuel Prince

Feb. 1 2018, Updated 2:10 p.m. ET
Werner's 4Q17 operating margin
Now let's examine Werner Enterprises' (WERN) operating margins for 4Q17. The company earned an operating income of $45.1 million in 4Q17, a rise of 29% compared to its operating income of $35.0 million in 4Q16.
WERN's operating expenses were $522.3 million in 4Q17 compared to $483.7 million in 4Q16. This difference reflects a 7.9% rise in WERN's operating expenses, whereas its revenue has risen 9%. Its operating margin was 7.9% in 4Q17, which was 1.2% higher on a year-over-year basis.
Werner's Truckload Transportation segment's operating margin expanded 2.4% to reach 11.7% in 4Q17. However, Werner's Logistics segment's operating margins contracted 2.1%, barely touching 1.8% in the quarter.
Article continues below advertisement
Detailed operating expenses in 4Q17
In 4Q17, Werner Enterprises saw a 15.4% rise in salaries, wages, and benefits expenses totaling $180.9 million compared to $156.8 million a year earlier. This substantial rise explains the escalated costs associated with driver recruitment and retention. Werner's fuel expenses rose 35.3% to $58.2 million compared to $43.0 million in 4Q16. This whopping rise in fuel costs was reflective of 2017's higher fuel prices compared to the previous year.
Werner's supplies and maintenance costs rose 7.9% to $44.0 million in 2017 compared to $40.8 million in 2016. Depreciation expenses fell to $55.0 million in 4Q17 compared to $56.8 million in 4Q16. Even rent and purchased transportation expenses fell 0.5% to $132.4 million from $133.1 million.
Management's insights
In 2017, Werner's net capital expenditure (or capex) was $199.0 million compared to its capex of $430.0 million in 2016. For 2018, the company expects its capex to be in the range of $300.0 million–$350.0 million. As a result of the implementation of the Tax Cuts and Jobs Act of 2017, WERN anticipates higher spending on its trailer and tractor fleets in 2018.
Management also expects higher fuel expenses, depreciation, and other operating expenses in 2018. The company has also mentioned the difficulties associated with the driver recruitment market. WERN believes increased competition and tightened truck safety rules should result in higher driver compensation, raising compensation and benefit costs in the coming quarters.
Peers' 4Q17 operating margins
While WERN was able to expand its operating margin in 4Q17, the same wasn't the case for its peer truckload (IYT) companies. Marten Transport (MRTN) reported a margin contraction of 60 basis points to 7.8% in 4Q17 compared to 8.4% in 4Q16. J.B. Hunt Transport (JBHT) also posted an operating margin contraction to 8.4% in the same quarter, a fall of ~3% from 11.3% in 4Q16. Heartland Express (HTLD) will be reporting its 4Q17 earnings at the end of the third week of February 2018.