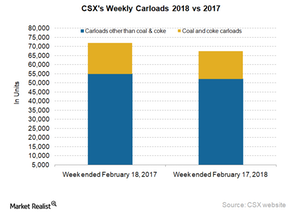 Comparing CSX's Shipments with Rival Norfolk Southern in Week 7
By Samuel Prince

Updated
CSX's carloads in Week 7
CSX (CSX) is another major operator in the Eastern US along with Norfolk Southern (NSC). CSX reported a 6.3% carload traffic loss in the seventh week of 2018. The company hauled 67,200 carloads in that week compared with ~71,800 carloads in the corresponding week of 2017. 
The fall in CSX's carloads was substantially higher compared with the US railroads' 0.6% slump in the seventh week of 2018. The company's shipment decline in percentage terms was much higher than Norfolk Southern's (NSC) loss.
For CSX, other than coal (ARLP) and coke carloads comprised 77.5% of total carloads while the remaining were coal and coke carloads. In Week 7, the railroad's carloads excluding coal and coke declined 5.0%, totaling over 52,100 units from 54,900 units in 2017. 
Article continues below advertisement
Coal and coke carloads were a little over 15,100 units, down 10.7% from around 17,000 units in Week 7 of 2017. CSX's carload data from the last several weeks reveals that the company hasn't regained its lost market share from Norfolk Southern. In mid-2017, service disruptions due to shifting toward a new operating model forced some of CSX's customers to opt for other shippers.
Changes in commodity groups
The commodity groups where volumes increased were:
stone, clay, and glass products
other carloads
Commodity groups where carload traffic declined were:
grain
food products
chemicals
pulp and paper products
crushed stone, sand, and gravel
non-metallic minerals
CSX's intermodal traffic in Week 7
In line with its carload traffic loss, CSX recorded a 1.8% loss in intermodal units in the seventh week of 2018. The company carried ~54,500 containers and trailers in that week compared with 55,500 units in the same week of 2017. 
Container traffic contracted whereas trailer volumes expanded. CSX's container traffic declined 2.3% to nearly 52,400 units in 2018 from 53,600 units in last year. Trailer volumes were up 12.1% to less than 2,100 in 2018 compared with over 1,800 units in 2017.
In the seventh week of 2018, CSX reported an overall 4.4% railcar traffic loss. This was in sharp contrast with the 3.2% gain posted by US railroads (XLI).
In the next article, we'll discuss Kansas City Southern's (KSU) shipments.