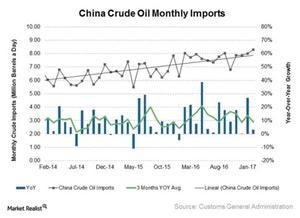 China's Crude Oil Imports Rose 20% in January
By Sue Goodridge

Feb. 28 2018, Published 8:12 a.m. ET
China's import and export data
China released its trade data for January. In dollar terms, China's exports rose 11.1% YoY (year-over-year), while its imports rose 36.9%. The data, especially on imports, showed an improvement from December. China's exports rose 10.9% YoY, while imports rose 4.9% YoY in December. China's January trade data were better than expected for exports and imports.
Article continues below advertisement
January's crude oil imports
In January, China's crude imports rose 20% YoY to 40.6 million tons—up from 33.7 million tons in December 2017. On a daily basis, China imported 9.57 MMbpd (million barrels per day)—compared to 7.94 MMbpd in December. China's imports rose 20% from the previous month.
Top importer
In 2017, China became the world's top oil importer when it surpassed the US. China's crude oil import volumes surpassed the US imports in annual figures. China has brought more refining capacity online. At the same time, China's crude oil production continued to decline. Going forward, China's crude oil imports could rise due to strong demand and declining production.
China's crude imports
Most of China's crude oil imports are carried out by crude oil tankers especially VLCCs. China has become the largest crude oil importer in the world. Around 60% of China's oil consumption comes from imports. Typically, higher crude oil imports mean higher VLCC demand. Higher VLCC demand translates to higher VLCC rates. Navios Maritime Midstream Partners (NAP) operates six VLCCs, Tsakos Energy Navigation (TNP) operates three VLCCs, Gener8 Maritime Partners (GNRT) has 22 VLCCs in its fleet, and DHT Holdings (DHT) Holdings has 27. Nordic American Tankers (NAT) doesn't have a single VLCC in its fleet.