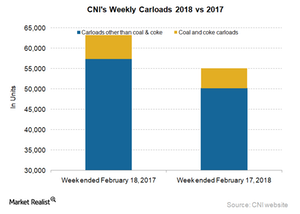 Canadian National Railway: Commodities that Pulled Down Carloads in Week 7
By Samuel Prince

Updated
Canadian National Railway: Carload traffic
In recent times, Canada's largest freight rail Canadian National Railway (CNI) has never witnessed a double-digit slump in carload traffic. However, in the week ended February 17, 2018, this Montreal-headquartered railroad registered a ~13% carload traffic loss. 
From nearly 63,300 railcars in 2017, the company hauled over 55,000 railcars in the seventh week of 2018. The fall in company's carloads was much higher than the slump recorded by US and Canadian railroads (GWR). Compared with CNI's carload traffic loss, Canadian Pacific's (CP) decline in the same category was just 0.4%.
Article continues below advertisement
Canadian National Railway's carloads excluding coal (BTU) and coke declined 12.5% to ~50,200 units from ~57,400 units in Week 7 of 2017. The share of these carloads was ~91.1% of total carloads in 2018 while the balance of 8.9% was contributed by coal carloads. Coal and coke carloads declined 17% to ~5,000 units from ~6,000 units in 2017.
Ascending and descending carload commodity groups
The top volume gainer commodity groups were:
grain mill products
stone, clay, and glass products
nonmetallic minerals
The top volume loser commodity groups were:
forest products
chemicals
petroleum products
metallic ores
automotive
grain
CNI's intermodal traffic in Week 7
In 2017, Canadian National Railway (CNI) witnessed robust growth in intermodal volumes. However, in recent weeks, the intermodal volumes' growth rate has fallen substantially. 
CNI noted an 8.0% gain in intermodal volumes in the seventh week of 2018. CNI's intermodal volumes represented by containers were ~47,500 units from ~44,000 units in 2017.
On an overall basis, the company registered a 4.3% railcar traffic loss in Week 7 of 2018. This is in sharp contrast with the gains reported by US and Canadian railroads (FXR).
The final part of this rail freight traffic series deals with Canadian Pacific Railway (CP).