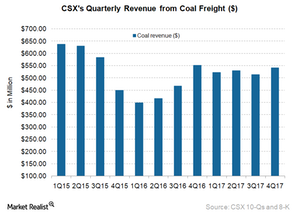 Why CSX's 4Q17 Coal Revenues Fell
By Samuel Prince

Jan. 18 2018, Published 9:06 a.m. ET
CSX's coal revenues in 4Q17
Before we move to CSX's (CSX) segmental revenues, we'll examine its quarterly operating revenues. In 4Q17, the company realized revenues of $1.6 billion, which was 6% lower than its $1.7 billion in 4Q16. An 8% reduction in overall volumes dragged CSX's total operating revenues down in 4Q17.
For revenue comparisons, investors should note that on a GAAP (generally accepted accounting principles) basis, CSX got an extra week in 4Q16.
Article continues below advertisement
CSX's coal (BTU) revenues fell 2% to $541.0 million in 4Q17, down from $551.0 million in the corresponding quarter of 2016. However, coal's share in CSX's overall revenues jumped to 18.9% in the same quarter, up from 18.1% in 4Q16, and 4Q17 marks the first quarter in recent quarters wherein CSX reported lower coal revenues YoY (year-over-year).
On a non-GAAP basis, the company's coal revenues rose 4%, totaling $541.0 million in 4Q17, compared with $520.0 million in 4Q16. This comparison excludes the extra week in the last quarter of 2016.
CSX's coal volumes in 4Q17
Overall coal volumes fell 5% to 224,000 units in the fourth quarter of 2017, but CSX realized 3% higher revenue per unit for coal haulage. This indicates better price realization for the company on that front. 
For CSX, domestic utility coal represented 59% of its total coal tons in 4Q17. In the comparable quarter of 2016, this percentage was 70%. Domestic utility coal tonnage fell 20.5% to 15.1 million tons from 19 million tons in the fourth quarter of 2016. The fall came on account of a competitive loss of short-haul interchange traffic in addition to competition from natural gas.
Volumes of coke and iron ore declined as a result of sourcing shifts and a temporary outage at a steel producer client. The tons of export coal jumped 29.6% to 10.5 million tons in 4Q17 due to worldwide supply levels and favorable pricing for US export coal in international markets.
CSX's coal outlook
CSX expects tough comparisons on export coal rates in 1H18 because they are linked with the commodity prices. The company also expects robust coal markets in terms of volumes. Its overall outlook for export metallurgical coal and steam coal remains positive in 2018.
Notably, utilities in the Northern US have been replacing coal with natural gas, and this should negatively impact CSX's domestic utility coal hauling in coming quarters.
For almost all class-I railroads (UNP) (NSC), coal remains the single largest freight source. Investors should closely watch the coal revenue trends of major US railroads (IYJ) for better insight into coal revenues in 4Q17 and beyond.
Next, we'll consider CSX's intermodal segment performance in 4Q17.