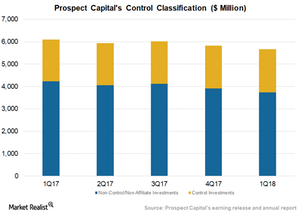 Prospect Capital: Real Estate, Online, Structure Credit
By Robert Karr

Jan. 8 2018, Updated 7:36 a.m. ET
Rise in controlled holdings
Prospect Capital's (PSEC) exits and repayments have largely been in debt-related investments. Its equity investments have remained largely intact in the present portfolio. The controlled investments portion rose to 34% in fiscal 1Q18 compared to 32.7%. The valuation of holdings rose from $1.91 billion to $1.93 billion within three months compared to non-control investments, which fell from $3.9 billion to $3.7 billion during the same period.
Control investments have fared well amid the rising broad markets (SPY) (SPX-INDEX). However, unless those investments are realized, shareholders could have notional profits.
Article continues below advertisement
Real estate, online lending
Prospect Capital is consolidating its REIT portfolio in National Property REIT (or NPRC). NPRC's holdings have seen a positive impact from higher rents, occupancies, value-added renovation programs, and financing recapitalization. They have led to higher yields alongside its corporate debt business. In fiscal 1Q18, NPRC exited from the Vista, Mission Gate, Bexley, and Abbington properties. The proceeds will be redeployed into new acquisitions offering capital appreciation and rental appreciation benefits.
Closed-end funds BlackRock Capital (BKCC) and Apollo Investment (AINV) are seeking to add real estate portfolios, considering opportunities in the space.
Structured credit performance
As of September 31, 2017, Prospect Capital had invested in 43 structured credit investments with a fair value of $1 billion in individual stand-alone, non-recourse funding. The underlying structured credit portfolio consisted of more than 2,300 loans with a total asset base of more than $19 billion. The portfolio has had a default rate of 0.55% over the past four quarters, which is 98 basis points lower than the broadly syndicated market rate of 1.5%.
In fiscal 1Q18, Prospect's structured credit equity portfolio garnered an annualized yield of 18.3% and a GAAP (generally accepted accounting principles) yield of 12.4%, which was lower than the previous quarters due to yield compression. The portfolio has generated cumulative cash distributions of $1 billion, making up approximately 70% of the original investment.