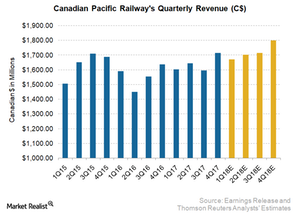 Why Canadian Pacific's Revenue Soared in 4Q17
CPR's 4Q17 revenue
In 4Q17, Canadian Pacific Railway (CP) witnessed a 4% rise in its total freight revenue to 1.7 billion Canadian dollars. In the same quarter of 2016, the company reported revenue of $1.6 billion.
In 2017, CP's revenue jumped 5% to $6.4 billion compared to $6.0 billion in 2016.
Article continues below advertisement
Commodity group 4Q17 revenue
Overall, Canadian Pacific Railway's volumes rose 30.8% to 679,000 carloads in 4Q17 compared to 648,200 carloads a year earlier. Even the company's RTM (revenue ton miles) were up 4%. However, its freight revenue per carload and its freight revenue per RTM were flat in the quarter.
The company received the most (25.5%) revenue from hauling grain. Its grain revenue fell 14% from $439.0 million in 4Q16 to $425.0 million in 4Q17 due to a 14% fall in US grain revenue offsetting a 6% rise in Canadian grain revenue.
Next to grains, CP's highest revenue contributor was its intermodal business, which accounted for 21.6% of its 4Q17 revenue. Its intermodal revenue rose 7% to $361.0 million compared to $337.0 million in 4Q16. Its domestic intermodal operations drove its revenue with a YoY (year-over-year) rise of 15%.
Article continues below advertisement
CP's revenue outlook for 2018
Canadian Pacific Railway anticipates a mid-single-digit revenue rise in 2018. The company's capital expenditure estimate is between $1.4 billion and $1.5 billion for the current year. Bulk commodities include potash, grain, and coal, and they constitute ~44% of CP's 2018 revenue. Strong global potash (POT) demand is expected to boost K+S Potash Canada's production. Coal volumes are expected to remain steady. Canadian grain crop production in 2018 is anticipated to be in line with production in 2016–2017. However, CP foresees weak US grain volumes in 2018.
Merchandise revenue accounts for 35% of CP's total 2018 revenue, whereas intermodal revenue should contribute 21% of its 2018 revenue. The oil price recovery is expected to drive crude-by-rail demand due to a tight pipeline capacity. Higher infrastructure spending should boost demand for aggregate and steel products going forward. A decline in North American vehicle production could also affect automotive freight hauling. Domestic intermodal business will most likely push CP's intermodal revenue in 2018.
In the coming quarters, revenue growth will be the main differentiating factor among US Class I railroad (XLI) companies. It will depend upon a mix of increased prices and volume growth. Kansas City Southern (KSU) reported a 10% rise in its 4Q17 revenue on 5% carload growth. CSX (CSX) registered a 6% revenue fall in the same quarter driven by a volume loss of 8% on a reported basis. Other Class I railroad companies (UNP) (NSC) have yet to report their 4Q17 results.
Was Canadian Pacific Railway able to expand its operating margin? We'll take a look in the next article.