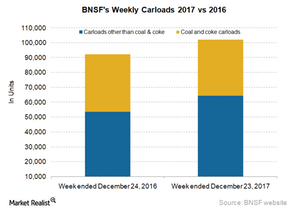 How BNSF Railway's Railcar Traffic Trended in Week 51 of 2017
BNSF Railway's railcar traffic
Berkshire Hathaway's BNSF Railway (BRK-B) registered a 10.8% gain in carload traffic in the 51st week of 2017 (ended December 23). The Western US rail giant hauled over 102,000 carloads that week—up 10,000 carloads over the volumes it moved in the week ended December 24, 2016.
BNSF Railway's carload traffic growth trended with the rise posted by US railroads. The company's volume growth was slightly higher than the gains seen by Union Pacific (UNP).
Article continues below advertisement
BNSF's carloads other than coal (UNG) and coke came to 63% of total carloads, while coal shared the balance 37%. Carloads excluding coal and coke registered a solid rise of ~20% in the 51st week of 2017, with traffic reaching ~64,000 carloads, compared with 53,600 units during the corresponding week of last year.
However, coal and coke carloads recorded downward movements, falling 1.7%, or 660 carloads, to 37,900 carloads from 38,600 units last year.
Ups and downs in carload commodity groups
BNSF's intermodal traffic
In the 51st week of 2017, BNSF Railway recorded a strong double-digit rise of 12.3% in intermodal volumes. The company hauled just under 105,000 containers and trailers, compared with ~93,000 units last year. Container traffic, which accounted for 87.3% of overall intermodal traffic, grew 12.7%.
BNSF carried over 91,100 containers from around 80,900 units in last year. Trailer volumes jumped 9.8% to ~13,300 trailers in the current year's 51st week.
BNSF's rail traffic gains including intermodal came to 11.6%, compared with UNP's 8.4% in the 51st week of 2017.
In next part, we'll review Union Pacific's (UNP) railcar traffic.