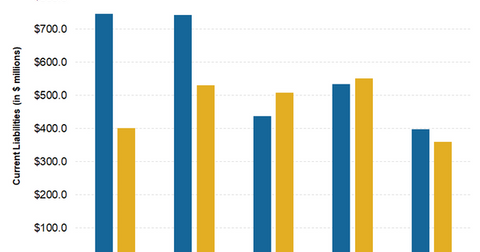 How Well Is KBR Handling Its Short-Term Obligations?
By Alexis Tate

Updated
KBR's liabilities
As of September 30, 2017, KBR (KBR) had a total debt of $2.7 billion against $3.4 billion at the end of fiscal 2016. Nearly $1.2 billion of that is currently payable. KBR's current liabilities are primarily accounts payable and BIE (billings in excess) of estimated earnings apart from costs on pending contracts).
Article continues below advertisement
Accounts payable
Factors affecting accounts payable include timing of receipts of invoices apart from payments on the same. In 2016, the company declared accounts payable of $535 million, an increase of 22.2% compared to $438 million in 2015. The increase was due to the award of a US government project, other projects from Wyle and KTS, and the timing of invoicing and payments within the usual course of business.
Billings in excess
Billing is affected by contract terms of each project based on expenses incurred and achievement of milestones or pre-agreed schedules. BIE primarily figures in KBR's fixed-price projects. The company had BIE of $552 million in 2016 compared to $509 million in 2015.
The increase in BIE is primarily due to gains associated with a couple of EPC (engineering, procurement, and construction) ammonia projects in the United States under the E&C (Engineering & Construction) business vertical. Declines in various projects in the T&C (Technology & Consulting) segment and a power project in the non-strategic business unit resulted in equalization of the overall BIE.
Current ratio
Commonly known as liquidity ratio, the current ratio aims to measure a company's ability to meet short-term obligations and long-term debts. KBR has a current ratio of 1.31 compared to the industry (XLI) average of 1.62. Jacobs Engineering (JEC) has a current ratio of 1.56, and Fluor's (FLR) ratio is 1.47. Chicago Bridge & Iron (CBI) has a current ratio of 0.56, implying difficulty in meeting debt obligations. CBI's interest expenses have been increasing since 2014.