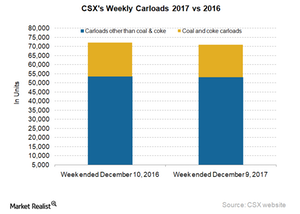 Freight Rail Traffic: CSX Lags behind Peers in Week 49
By Samuel Prince

Updated
CSX's carloads in Week 49
In 2017, among all Class I railroads, Jacksonville-headquartered CSX (CSX) has consistently reported lower YoY (year-over-year) freight volumes. The week ended December 9 was a no exception. In that week, CSX reported a 1.8% decline in carload traffic. CSX's carload volumes fell to ~71,000 units from ~72,100 carloads in the week ended December 10, 2016.
In the 49th week of 2017, the company's carloads, other than coal (UGAZ) and coke, fell 0.9% to 53,000 units from 53,500 units in 2016. Coal and coke carloads fell 4% to 18,000 units from 18,700 units. While other US railroads reported higher carloads, CSX's were lower.
Changes in commodity groups
The following commodity groups recorded higher volumes in Week 49:
chemicals (DOW)
petroleum and petroleum products
crushed stone, sand, and gravel
stone, clay, and glass products
The following commodity groups recorded lower volumes in Week 49:
grain
pulp and paper products
non-metallic minerals
iron and steel scrap
waste and non-ferrous scrap
motor vehicles and parts (TM)
CSX's intermodal traffic in Week 49
In Week 49, CSX reported a marginal 0.8% gain in intermodal traffic, moving ~56,100 containers and trailers that week. Container traffic growth was slightly lower, at 0.5%. CSX hauled ~53,000 containers. Trailer volumes rose 5.4% to ~3,100 trailers from ~3,000 trailers last year. In the next part, we'll look at Kansas City Southern's (KSU) freight traffic.