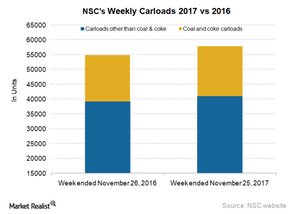 These Commodities Boosted Volumes for Norfolk Southern in Week 47
By Samuel Prince

Dec. 5 2017, Updated 12:05 p.m. ET
Week 47: NSC's carloads
Norfolk Southern (NSC) and CSX (CSX) operate a duopoly in the Eastern US. NSC's carload traffic was up 5.7% to ~58,000 units in the week ended November 25, 2017, compared with 54,800 units in the week ended November 26, 2016. The company's carload traffic rise was significantly higher compared with the US railroads' marginal volume gains in the 47th week of 2017.
Norfolk Southern registered a 4.7% rise in carloads other than coal and coke. These carloads were slightly over 41,000 units in the 47th week from ~39,200 units in the same week last year. Coal (UNG) and coke carloads were up 8.1% to ~17,000 units from 15,600 units in last year's week 47. The week's share of coal and coke in NSC's carloads jumped marginally to 29.2% from 28.5% in 2016. Normally coal and coke carloads make up 30% of total carloads, while the remaining 70% comes from other than coal and coke carloads.
Article continues below advertisement
Ups and downs in commodity groups
In the 47th week of 2017, Norfolk Southern reported gains in these commodity groups:
chemicals (HUN)
crushed stone, sand, and gravel
motor vehicles and equipment
petroleum products (BHGE)
pulp, paper, and allied products
The following commodity groups pulled down freight volumes in week 47:
food and kindred products
grain mill products
grain
metals and products
On a year-to-date basis, Norfolk Southern's carloads excluding coal and coke went up very marginally by 0.14%. However, its coal and coke carloads soared 16.8% in the same timeframe. The total carload traffic was up 4.6% in the first 47 weeks of 2017 for Norfolk Southern.
NSC's intermodal volumes
In the 47th week of 2017, Norfolk Southern posted 7.9% gains in intermodal volumes. NSC hauled ~63,700 containers and trailers in that week compared with over 59,700 units in the same week last year.
Containers and trailers normally account for 90% and 10% of NSC's intermodal traffic, respectively. The company's container traffic jumped 6.6% to ~63,700 units from 59,700 units in 2016. Trailers posted a robust rise of 20% in volumes, nearing 7,600 units in week 47 of 2017.
In the subsequent part, we'll discuss CSX's shipments.