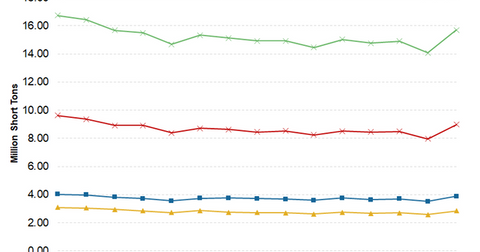 Coal Production Rebounded in the Week Ended December 2
By Alexis Tate

Updated
Weekly coal production
On November 30, the EIA announced coal shipment estimations for the week ended December 2, 2017. For railroad companies like Union Pacific (UNP) and Kansas City Southern (KSU), coal is a significant commodity. The weekly release on US coal production is estimated based on these rail car packings.
For the week ended December 2, 2017, coal production rose sharply to 15.7 MMst (million short tons) from 14.1 MMst in the previous week.
Article continues below advertisement
The coal production for the week ended December 2, 2017, grew nearly 11.6% on a week-over-week basis and 9% on a YoY (year-over-year) basis. We haven't witnessed this level of production since September 2017. Coal production from all three primary coal mining regions rose significantly during the week ending December 2.
The Appalachian region produced ~3.9 million short tons of coal, nearly 10% more than the amount produced during the previous week. Coal produced in the Interior region rose almost 10.4% to ~2.9 million short tons during the same period.
The Western region is estimated to have sourced the remaining 8.9 million short tons, a whopping 12.5% increase from the previous week.
Coal shipments
For leading coal (KOL) miners like Arch Coal (ARCH) and Cloud Peak Energy (CLD), the quantity of coal to be dug is related to the strength of the demand for the commodity. On the other hand, coal shipments are subject to competition from low-cost non-renewable energy sources as well as railroad availability. So, coal production and coal shipments are related.
Short-term shipment variations may be caused if railcars are inaccessible, if there are supply-related obstructions, or if there are adverse weather conditions. Because these are short-term issues, one shouldn't come to any conclusions based only on weekly shipment details—these results could be misleading.
In the final part of this series, let's discuss coal prices in the three prime coal-mining regions.