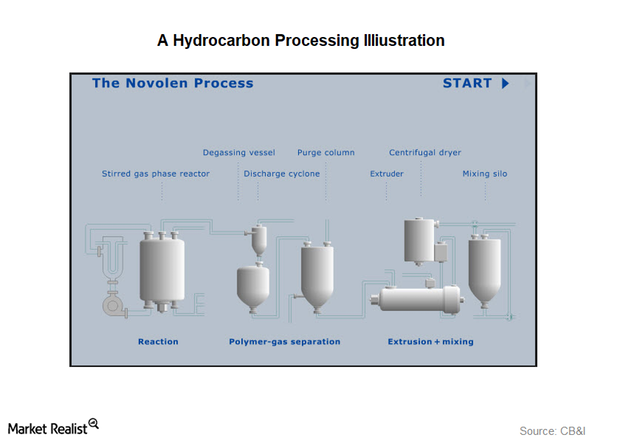 Chicago Bridge & Iron and Its Major Acquisitions
By Alexis Tate

Dec. 7 2017, Updated 2:45 p.m. ET
Expanding services and capabilities
In December 2000, Chicago Bridge & Iron Company (CBI) completed the purchase of Howe-Baker International from investment firm WEDGE Group in a cash and stock deal. CBI paid WEDGE Group $28 million in cash and issued 8.1 million shares of common stock. Howe-Baker International specialized in the design, engineering, fabrication, and construction of hydrocarbon processing plants. The acquisition was CBI's strategy to increase its EPS (earnings per share) through sustainable revenue growth.
Article continues below advertisement
With the acquisition, CBI was able to expand its services to encompass the hydrocarbon industry, from conceptual design, technology licensing, engineering, and construction to the final commissioning and technical services. Its customers, including ExxonMobil (XOM) and BP, are some of biggest companies operating in the hydrocarbon (XLE) industry.
CBI acquired the Engineered Construction division and the Water division of Pittsburgh-Des Moines Steel Company in 2001. It acquired John Brown Hydrocarbons in 2003.
Technology acquisitions
CBI acquired Lummus Global from ABB on November 19, 2007, for $950 million. Lummus Global provided proprietary process technologies, project management, and EPC (engineering, procurement, and construction) management services to the oil and gas, petrochemical, and refining industries globally. The purchase was funded by a mixture of cash and debt. Currently, CBI has formed a joint venture with Lummus Global and Chevron (CVX).
How CBI added clients in the power generation and government services sector
On February 13, 2013, Chicago Bridge & Iron completed the acquisition of the Shaw Group for $3 billion. CBI paid $46 per share in cash and stock. The Shaw Group reported $0.9 billion in total revenues in fiscal 2011. It provided engineering, construction, technology, fabrication, remediation, and support services to customers in the energy, chemicals, environmental, infrastructure, and emergency response industries.