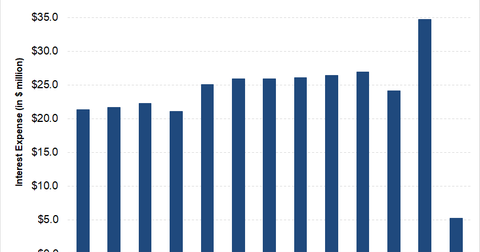 Chicago Bridge & Iron: Highly Leveraged Compared to Peers
By Alexis Tate

Updated
Debt profile
As of September 30, 2017, Chicago Bridge & Iron (CBI) had a total debt of $2.1 billion against $2.2 billion at the end of fiscal 2016. The company's total debt is currently payable. As of September 30, 2017, CBI has no long-term debt. Its interest expense has increased since 2014. In fiscal 2016, it had interest expense of $105.4 million compared to $94.4 million in fiscal 2015.

The increase was due to higher revolving credit facility borrowings and the year-long impact of long-term borrowings in 3Q15. For 3Q17, the company has an interest expense of $5.3 million, which has risen year-over-year due to the accelerated amortization of debt issuance costs. However, it was lower on a quarter-over-quarter basis.
Article continues below advertisement
Credit metrics
Chicago Bridge & Iron's net debt-to-EBITDA (earnings before interest, tax, depreciation, and amortization) ratio as of September 30, 2017, was 34.91x against the industry median of 3.18x. Its peer KBR (KBR) has a very low net debt-to-EBITDA ratio of 0.16x.
CBI's debt-to-equity, also known as the gearing ratio, is 1.87x compared to the industry median of 0.44x. CBI's peer Fluor (FLR) has a gearing ratio of 0.49x, while Jacobs Engineering (JEC) has a very low gearing ratio of 0.05x.
Chicago Bridge & Iron is highly leveraged compared to other industrial (XLI) companies.
Liquidity
Chicago Bridge & Iron's liquidity as of September 30, 2017, is low, with $341.9 million in cash and cash equivalents. Its cash is maintained outside the Netherlands in local accounts around the globe.
CBI's cash is impacted by fluctuations in currency exchange rates. In fiscal 2016, its cash and cash equivalents fell $48.1 million, primarily due to the impact of change exchange rates for the euro, the Australian dollar, and the British pound against the US dollar.