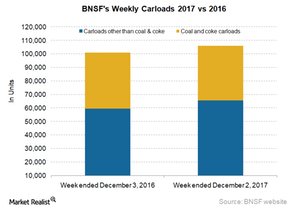 Comparing BNSF Railway's Carload Traffic with the Industry in Week 48
By Samuel Prince

Updated
Week 48: BNSF Railway's carload traffic
The largest Class I railroad in the US, BNSF Railway (BRK-B) posted a 5.0% gain in carload traffic in the week ended December 2, 2017. The company moved nearly 106,000 railcars in that week compared with ~101,000 railcars in the week ended December 3, 2016.
BNSF Railway's carload growth in the 48th week of 2017 was in line with the gains realized by US railroads. Compared with rival Union Pacific's (UNP) volume gains, this Berkshire Hathaway– controlled railroad posted higher carload gains in week 48.
BNSF Railway's other than coal and coke carloads expanded ~10.0% to ~65,500 carloads in 2017 compared with 59,600 units in last year's week 48. However, this growth was offset by a 2.1% loss in coal and coke carloads.
BNSF Railway hauled ~40,600 coal and coke carloads in 2017, down by ~860 carloads from the company's levels in 2016. Carloads excluding coal and coke accounted for 62.0% of total carloads while the remaining 38.0% comprised coal and coke carloads in the 48th week of 2017.
Ups and downs in commodity groups
Intermodal traffic in week 48
BNSF Railway saw a double-digit rise in its intermodal volumes in the 48th week of 2017. The company's intermodal traffic jumped 10.1% in that week, crossing 113,500 containers and trailers compared with ~103,200 units in the same week of 2016.
Containers contributed 86.0% to BNSF's total intermodal volumes, while trailers contributed 14.0% in the reported week of 2017.
Container traffic expanded 9.5% to ~97,800 units in week 48 this year. On the other hand, trailer volumes rose 14.5% to 15,800 trailers. BNSF Railway registered more than double its intermodal traffic gains compared with the US railroads' gains in the same week.
In the next part, we'll look at Union Pacific's (UNP) freight volumes.