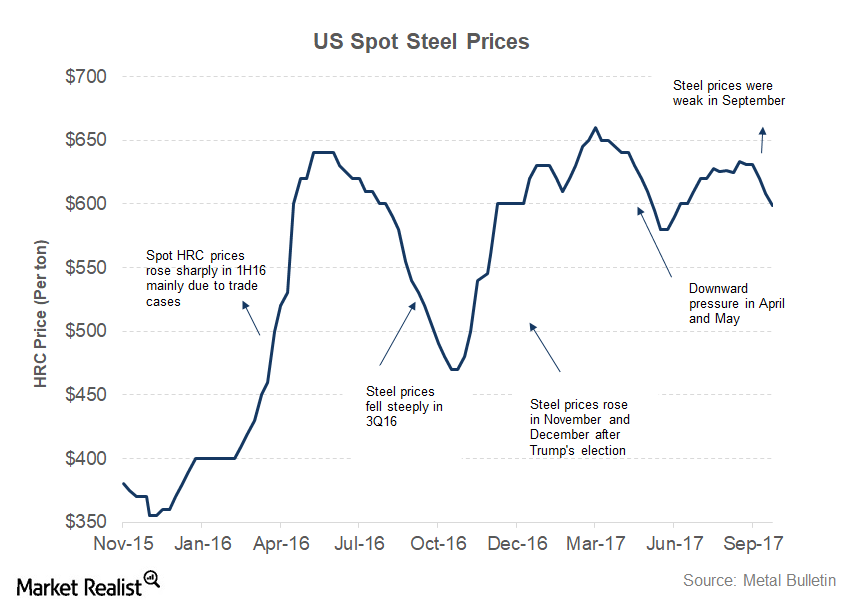 US Steel Producers Look to Reverse Sliding Steel Prices
Steel prices
Steel prices are a key driver of steel companies' earnings. The prices are crucial for steel investors to follow the trend in spot steel prices. While US steel prices were volatile in the last few years, they have been range-bound this year. However, we've seen some weakness in steel prices in 2H17.
Article continues below advertisement
Cold roll coil
According to Platts, US CRC (cold rolled coil) prices weakened last week. We saw price hike announcements by US steel producers including AK Steel (AKS). However, it's worth noting that the last two rounds of price hikes by US steel only had a limited impact.
Weakness in US steel prices might look surprising because steel prices have been strong globally. Notably, ArcelorMittal's (MT) NAFTA (North American Free Trade Agreement) segment showed the biggest percentage decline in 3Q17 profitability compared to the company's other geographical segments. Even with a seasonal demand slowdown, the company's Europe segment posted healthy profits.
Spreads
After the recent round of price hikes, market participants were left wondering whether the hikes would hold ground. It's worth noting that the spreads between US and international prices are modest in some products, especially in HRC (hot roll coil). However, the spreads between US and international CRC prices are still attractive due to the high HRC-CRC spread in US markets (STLD).
As we approach 1Q18, we could see some momentum building in steel pricing (X) (NUE). The 270-day deadline for the findings of the Section 232, imports probe that was ordered by the Trump Administration earlier in the year, will end in mid-January. Steel demand tends to pick up in the first quarter. These factors combined with low supply chain inventories bode well for US steel prices heading into 2018.
In the next part, we'll see how analysts changed their ratings on steel stocks last week.