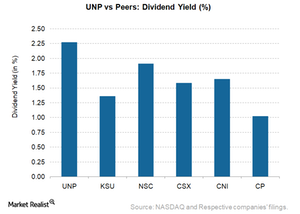 Where Union Pacific's Dividend Yield Stands among Peers
Union Pacific's dividend payout
On November 16, 2017, Union Pacific (UNP) declared a quarterly dividend of $0.665 per share. On a yearly basis, this dividend amounts to $2.66 per share for fiscal 2018. Based on the past 12 months' earnings of $5.65 per share, UNP's dividend payout comes in at ~47% in 4Q17.
UNP's highest dividend payout ratio was 45% in 2011 and 2012, while its lowest was 22% in 2008 and 2009. The current levels of UNP's dividend payout are above its highest payout in the past ten years.
Article continues below advertisement
UNP's dividend yield
The profit reinvestments for US class-I railroads (XLI) depend on their future outlook. Retaining a high proportion of net profits for business is common for these carriers, but a railroad might prefer to go with a stock buyback instead of raising dividends at regular intervals. For major US railroads, the stock buyback has become the preferred mode for cash distribution in recent years.
Union Pacific has the highest dividend yield among US class-I rail carriers at 2.3%. UNP's competitor on the small scale, Kansas City Southern (KSU), has a dividend yield of 1.4%.
Among the Eastern US rail carriers, Norfolk Southern (NSC) has a dividend yield of 1.9%, while CSX (CSX) has a yield of 1.6%. Canadian railroads Canadian National Railway (CNI) and Canadian Pacific Railway (CP) have dividend yields of 1.65% and 1.02%, respectively.
Notably, class-I rail companies' dividend yields have fallen during the past year due to the steady rise in their stock prices.
Union Pacific's dividend growth
Like most of its peers, Union Pacific has seen uneven dividend growth in the past ten years. When the freight volumes were high in 2014 and 2015, the company's dividend growth was negative. However, after its top-line growth fell, its dividend growth turned positive.
Notably, UNP's average dividend growth rate is 19.4% over the past five years (ended 2017).
In the next part, we'll review Union Pacific's free cash flow ahead of its 4Q17 dividend payment.