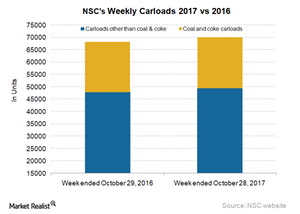 These Commodities Pushed Norfolk Southern's Volumes in Week 43
By Samuel Prince

Nov. 7 2017, Published 1:30 p.m. ET
Week 43: NSC's railcar traffic
Norfolk Southern (NSC) dominates the Eastern US rail freight space along with Hunter Harrison's CSX (CSX). Norfolk Southern gained 2.8% in railcar volumes in the 43rd week (ended October 28) of 2017, hauling more than 70,000 carloads, compared with ~68,000 units in the week ended October 29, 2016.
NSC's carloads excluding coal (BTU) and coke rose 3.1% to ~49,000 units, compared with ~48,000 units in the same week last year. Coal and coke carloads rose 2% to ~21,000 railcars from ~20,000 units in last year's 43rd week. For Norfolk Southern, coal and coke carloads accounted for ~30% of total carloads.
In the week ended October 28, 2017, the growth in NSC's railcar volume diverged from the change reported by US railroads.
Article continues below advertisement
Advancing and declining commodity groups
In the 43rd week of 2017, commodity groups with volume gains included:
chemicals
crushed stone, sand, and gravel
metals and products
motor vehicles and equipment (TM)
petroleum products (UNG)
These commodity groups saw volume losses during the same week:
food and kindred products
grain mill products
grain
stone, clay, and glass products
NSC's intermodal traffic in week 43
Norfolk Southern's intermodal traffic posted 5.4% gains in the week ended October 28, 2017. That week, the company moved ~85,000 trailers and containers—up by ~4,300 units from ~80,000 units in the week ended October 29, 2016.
In NSC's intermodal volume mix, containers accounted for 90.3% of traffic, while trailers shared the remaining 9.7%. In the 43rd week of 2017, container traffic grew ~3% to over 76,000 units, up from 74,000 units last year. Trailer volumes jumped robustly by 35% to over 8,200 units in the reported week, compared with ~6,100 units during the 43rd week of 2016.
In the next part, we'll examine CSX's (CSX) freight volumes.