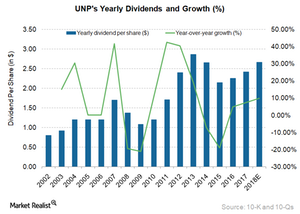 What Investors Need to Know about Union Pacific's Higher Quarterly Dividend
UNP's 4Q17 dividend
On November 16, 2017, major Western US railroad Union Pacific (UNP) announced a quarterly cash dividend of $0.665 per share on its common stock. This quarterly cash dividend represents an increase of 10% over the dividend of $0.605 per share paid in 3Q17.
The new cash dividend is payable December 28, 2017, to shareowners of record as of November 30, 2017.
Article continues below advertisement
UNP's past dividends
A quick look at the above chart tells us that Union Pacific has raised its dividend in recent years. Notably, there has been a steep rise in the company's annual dividend per share since the financial crisis.
However, the dividend per share came down after 2013. Since 2015, UNP's dividend has steadily risen from $2.15 per share to $2.66 per share in 2018 (estimated).
Union Pacific had nearly 800.4 million shares outstanding as of November 27, 2017. The dividend payment of $0.665 per share translates into a quarterly cash dividend totaling ~$532.3 million. In fiscal 2016, UNP paid dividends of nearly $1.9 billion.
What does the dividend rise mean for UNP investors?
UNP investors are likely aware of the potentially weak freight volume scenario going forward (see Market Realist's Can US Class I Railroads Bounce Back on Buybacks?). Among all the US class-I railroads (CSX), UNP's capital-expenditure-to-revenue ratio was the lowest in the first nine months of 2017. Although the company has raised its dividends in the past, its current 10% dividend rise is its highest in the past two years.
Remember, rail carriers like Union Pacific and Berkshire Hathaway's BNSF Railway (BRK-B) are the harbingers of US economic activity. The dividend rise by UNP points toward a soft business growth outlook for 2018.
ETF investments
Transportation stocks are included in the industrial sector. If you wish to opt for indirect exposure to industrial stocks, you can consider the iShares US Industrials ETF (IYJ). US railroads and airline (DAL) companies make up 6% and 4.6%, respectively, of the portfolio holdings of IYJ.
In this dividend series on Union Pacific, we'll go through the company's dividend payout and dividend yield. We'll also examine whether UNP's free cash flow can support dividend growth.