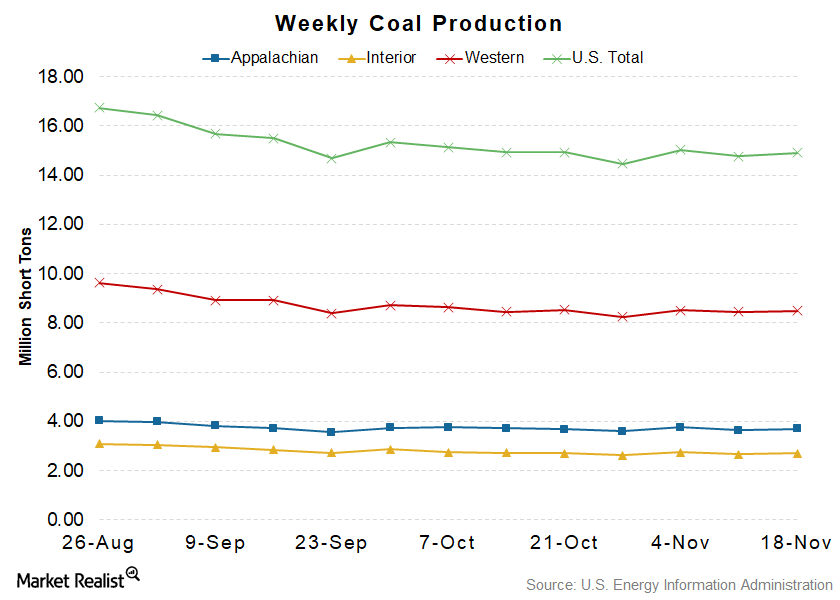 Coal Production Rises Marginally in Week Ended November 18
Weekly coal production
Coal shipment estimates for the week ended November 18, 2017, were announced on November 22 by the EIA (U.S. Energy Information Administration). Coal acts as a key commodity for railroad companies such as Kansas City Southern (KSU) and Union Pacific (UNP). The report on weekly US coal production is based on railcar loadings. For the week ended November 18, coal production rose ~0.9% to 14.9 MMst (million short tons) from 14.8 MMst in the previous week. However, year-over-year, coal production fell ~6.2%.
Article continues below advertisement
In the three main coal regions, production rose during the week ended November 18. Nearly 3.7 MMst of coal was mined from the Appalachian region, 1.6% more than during the previous week. The Interior is estimated to have produced ~2.7 MMst, up by 0.9% from the previous week. The Western region's coal production also rose marginally, by 0.7%, to nearly 8.5 MMst.
What coal shipments indicate
For major coal (KOL) companies such as Alliance Resource Partners (ARLP) and Cloud Peak Energy (CLD), the quantity of coal mined depends on demand for the commodity. On the other hand, coal shipments depend on competition from cheaper non-renewable power sources and the availability of railroad infrastructure. As a result, coal production and shipments mirror each other.
Short-term shipment discrepancies may be caused by railcar inaccessibility, supply-related challenges, and unfavorable weather conditions. Therefore, considering only weekly shipment details may be misleading. In the final part of this series, we'll discuss coal prices in the three primary coal-producing regions.