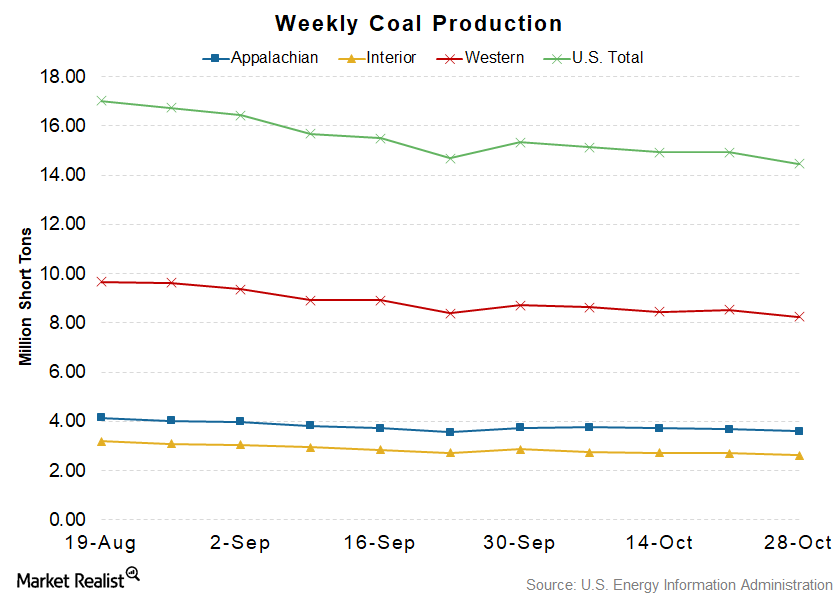 Coal Production Fell during the Week Ending October 28
Weekly coal production
Recently, the EIA (U.S. Energy Information Administration) published the coal shipment data for the week ending October 28, 2017. Coal is a significant commodity for railway companies like Norfolk Southern (NSC) and Genesee & Wyoming (GWR). The US weekly coal production report is published based on railcar loadings. The week ending October 28 witnessed a fall of 3.1% in coal production from 14.9 million short tons in the previous week to 14.5 million short tons. Production fell 7.1% on a year-over-year basis.
Article continues below advertisement
The Appalachian region is expected to produce nearly 3.60 million short tons of the total shipments—down nearly 2.5% from the previous week. The Interior region is estimated to source 2.6 million short tons—down ~3.3%. The Western region is estimated to source the remaining 8.25 million short tons of the total shipments.
Is coal shipment a significant parameter? 
Coal demand is one of the primary factors that impacts the volume of coal mined by coal (KOL) companies. Ease of railcar availability and competition from other cheaper fuels also plays a significant part in coal shipments. As a result, coal production and shipments mirror each other to a large extent.
The progress in railway infrastructure could benefit coal producers like Peabody Energy (BTU) and Cloud Peak Energy (CLD) that operate in the Powder River Basin.
Also, it's best to not just examine weekly shipment details, which might lead to misleading conclusions. Negative weather conditions, railroad availability, and supply-related hiccups could cause short-term shipment deviations.
In the next part, we'll look at coal prices by region.