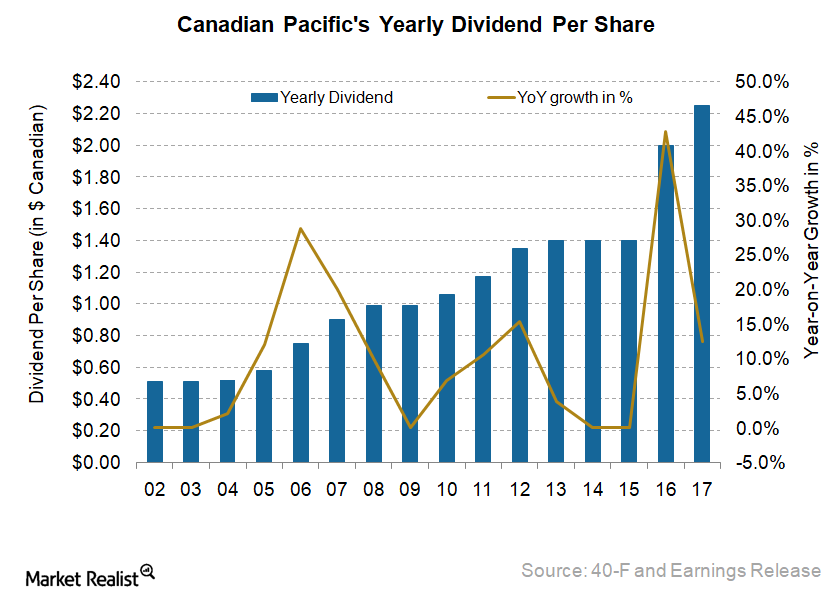 Canadian Pacific Railway's Low Yield, Uneven Dividend Growth
CP's dividend payout
Canadian Pacific Railway (CP) announced a quarterly cash dividend of $0.5625 Canadian per share Canadian on November 22. On an annualized basis, it amounts to a yearly dividend payment of $2.25 Canadian per share for fiscal 2017. Based on the last four quarters' earnings of $9.3 per share, CP's dividend payout came out at ~18% in the fourth quarter of 2017.
In the last ten years, the company's highest dividend payout ratio was 48% in 2012 while the lowest was 15% in the fourth quarter of 2017. Canadian Pacific Railway's dividend payout has been hovering near a ten-year low.
Article continues below advertisement
CP's dividend yield
US Class I railroad (XTN) is a highly capital-intensive industry, so the reinvestment of a high portion of net income is common among rail carriers. This approach leaves limited scope for higher dividends payments. However, the major US railroads buy back stock, which is a preferred avenue to return cash to stock owners.
As you can see in the above chart, Canadian Pacific Railway has the lowest dividend yield among all the Class I railroads. The company's forward dividend yield is 1.1%, whereas its trailing dividend yield is 0.95%. CP's main competitor, Canadian National Railway (CNI), has a forward dividend yield of 1.6%.
Union Pacific (UNP) has the highest dividend yield of 2.3% in the peer group. Norfolk Southern (NSC) has a yield of 1.9%. Rival CSX (CSX) has 1.6%. The United States' smallest Class I railroad, Kansas City Southern (KSU), has a forward dividend yield of 1.4%. Over the last year, railroad companies' forward dividend yield has fallen—mainly due to the rise in stock prices in the last year.
 CP's dividend growth
Note that over the last ten years, Canadian Pacific Railway's dividend growth has been very uneven. In 2017, the company's dividend grew 12.5% on a yearly basis. It had been very high, at 43%, in the previous year. CP's dividend has grown 7.1% per year in the last five years, almost half of 18.2% per annum reported by rival Canadian National Railway.
In the subsequent part, we'll examine whether Canadian Pacific Railway's free cash flows are enough to support dividend payment.