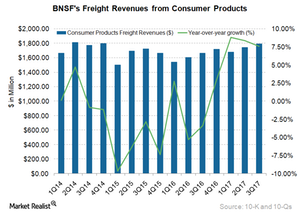 Burlington Northern Santa Fe's Consumer Products Segment in 3Q17
BNSF's Consumer Products revenues in 3Q17
So far, we've looked at the 3Q17 revenues for Burlington Northern Santa Fe (or BNSF) (BRK.B). Let's look now at its Consumer Products segment. In 3Q17, revenues for the Consumer Products segment rose $126 million (or 7.6%) to $1.8 billion, from $1.6 billion in 3Q16.
That vertical is the highest contributor to BNSF's total freight revenues. In the third quarter of 2017, the segment's share was 33.7%, a 1.5% rise from 32.2% in the same quarter last year.
Article continues below advertisement
3Q17 segmental volume
In 3Q17, BNSF's Consumer Products segment's shipments rose 7.4% on a year-over-year basis. The growth in volumes was mainly due to a rise in international intermodal, domestic intermodal, and automotive freight. Better economic conditions, a reduction in retail inventory stockpiles, new service offerings, and increased market share drove its volumes. The segment's average revenue per share rose ~1.8% in 3Q17.
BNSF's Consumer Products segment consists of international intermodal, domestic intermodal, and automobile and auto parts freight. Domestic intermodal covers intermodal marketing companies, truckload, LTL (less-than-truckload), expedited truckload, and parcel.
Consumer division revenue growth for peers
BNSF's Class I railroad peers report automotive freight and intermodal freight separately. In 3Q17, intermodal revenues for most of them rose year-over-year. Intermodal revenue is typically impacted by levels of retail inventory, highway-to-rail conversions, and trailer-container volumes at the ports of service.
Let's look at BNSF's peer group's intermodal revenue growth in 3Q17. That could help you compare the intermodal revenues of all Class I railroads.
All US-originated Class I railroads make up 5.9% of the portfolio holdings of the iShares US Industrials (IYJ).
Next, let's look at BNSF's Industrial Products segment in 3Q17.