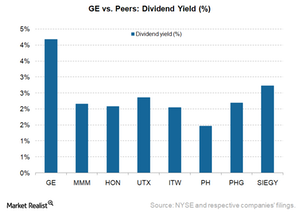 Will General Electric Cut Dividends in 2018?
By Samuel Prince

Updated
General Electric's dividend
For a long time, General Electric (GE) has had a decent dividend growth history. In the last year, GE's average per-share dividend growth rate was 3.30% per year. It was 5.6% over the past three years. The company's dividend payout ratio is 105.6%. Note that companies with low dividend payout ratios have the potential to raise dividends. GE's long-term average dividend payout ratio is 54.6%.
Article continues below advertisement
Dividend yield
In September 2017, General Electric announced a quarterly per-share dividend of $0.24. On an annual basis, this translates into a dividend yield of 4.18% based on a closing price of $22.9 per share on October 13. Over the past few quarters, GE's dividend yield has risen. With the stock's price hitting new lows in recent times, the dividend yield has gone up. Note that GE's dividend yield is close to a five-year high. The dividend yields of GE's industrial peer group are as follows.
The iShares U.S. Industrials ETF (IYJ) invests 11.4% of its portfolio in the aerospace and defense space. GE makes up 6.2% of IYJ's portfolio.
Is a dividend cut in the cards?
With the recent stock nose-dive, General Electric came under fire from many Wall Street analysts. According to a recent report from CNBC, J.P. Morgan analyst Stephen Tusa expects GE's dividend cut to be "increasingly likely." Jim Cramer, a well-known investment professional, has also indicated that GE will cut dividends and lower its guidance.
A quick look into GE's financials suggests that the free cash flows (or FCF) were positive until fiscal 2015. However, since then, FCFs have turned negative. The inherent weakness in the Industrial vertical's operating cash flows acts as a hurdle for current dividend levels.
In the final part of this pre-earnings series, we'll turn to Wall Street analysts for their views on General Electric and its peers.