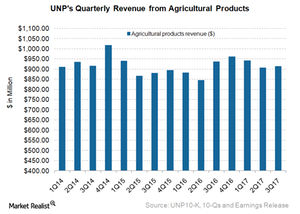 Why Union Pacific's Agricultural Product Revenues Slid in 3Q17
UNP's Agricultural Products segment
Union Pacific's (UNP) Agricultural Products (SEB) segment was the third-largest contributor to its 3Q17's total operating revenues. The segment's share fell to 18.1% for the quarter, down from 19.4% in 3Q16, and its revenues totaled $914.0 million, down 2% YoY (year-over-year) from $937.0 million in 3Q16.
Article continues below advertisement
Agricultural shipments in 3Q17
In 3Q17, Union Pacific saw its Agricultural Products' volumes tank 10% YoY to 232,000 carloads, down from 258,000 units in 3Q16. Average revenues, however, jumped 9% YoY to $3,951 per railcar in 3Q17, up from $3,637 per unit in 3Q16. This reflects strong pricing gains for the segment.
Grain volumes fell 19%, mainly due to delays in harvest and reduced US exports of feed grains and wheat, likely stemming from higher stockpiles worldwide. However, this was positively compensated by higher volumes from MidSouth poultry (HRL) and the Idaho dairy market.
Grain product carloads slumped 10% on account of weaker competitiveness of US export mill shipments to the Gulf Coast. Shipments of food (ADM) and refrigerated products rose 5%, mainly due to increased volumes of imported beer, resulting from robust summer demand. Volumes of domestic sugar were up due to the movement of excess inventory.
Management outlook
Union Pacific expects the delayed harvest to push shipments in 4Q17. On the other hand, increased global production of feed grains and wheat along with lower-quality domestic wheat harvest should create volume declines in UNP's export markets.
The company anticipates food and refrigerated volumes to grow as a result of Cold Connect penetration. Cold Connect is a Union Pacific service that offers five-day non-stop coast-to-coast transport of food and beverages. Weather recovery and contracting truck (XTN) capacity should also boost food shipments in 4Q17. UNP projects strengths in sugar and imported beer to continue in 4Q17.
In the next part, we'll assess UNP's operating margin in 3Q17.