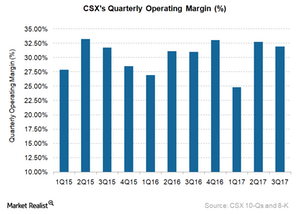 Why CSX's Operating Margins Soared in 3Q17
By Samuel Prince

Updated
CSX's operating margins
In 3Q17, CSX (CSX) saw a 90-basis-point rise in its operating margin. The company's margin expanded to 31.9% from 31% in the third quarter of 2016. In the reported quarter, CSX's operating income rose 4.2% to $876.0 million from $841.0 million in 3Q16. While total operating revenue grew 1.2%, CSX's operating expenses shrank 0.1% in 3Q17.
What's more important is the slight fall in CSX's operating expenses. Note that, due to the disruptions caused by Hurricane Irma, the company had to bear an incremental operating cost to restore its facilities in 3Q17. CSX also had borne a revenue loss arising out of customers shifting to other modes in the transition period. This double-whammy could be a hurdle to measuring operational efficiency gains from the implementation of the Precision Scheduled railroading technique in 3Q17.
Article continues below advertisement
Operating expenses in 3Q17
CSX's labor and fringe expense fell to $717.0 million in 3Q17, compared to $762.0 million in the third quarter last year. The company's cost curtailment actions in early 2Q17 resulted in savings. CSX expects its total full-time employee workforce to fall by over 4,000 by 2017's end compared to year-end 2016.
Materials, supplies, and other expenses grew to $516.0 million from $507.0 million in 3Q16. Higher volumes, along with multiple train accidents, asset impairments, and relocation costs, led the rise in expenses. Fuel expenses rose ~20% to $205.0 million in 3Q17 from $174.0 million in the third quarter last year. A 19% rise in diesel prices led the rise in fuel prices in the third quarter 2017.
Peer group operating margin
After the severe fall in 2016 coal revenue, Class I railroads (IYJ) focused on controlling operating costs. In the second quarter of 2017, CSX posted a 3.1% rise in operating margins year-over-year. Keeping this in mind, we'll review the operating margins for CSX's peers in 2Q17 compared to 2Q16.
Management insights
CSX expects to deliver an operating margin around the low end of the mid-40s by the end of 2017. The company anticipates running trains with increased length, terminal productivity, and double-stack clearance by completely shifting to the Precision Schedule railroading model in the coming quarters.
In the next part of this series, we'll turn to Wall Street analysts for their views on CSX and its peers after their 3Q17 earnings.