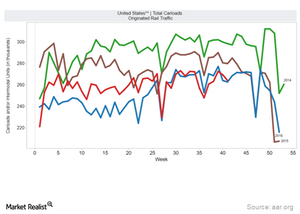 Week 41: US Rail Freight Traffic Up, Canada and Mexico Slide
By Samuel Prince

Dec. 4 2020, Updated 10:53 a.m. ET
Week 41: US rail freight volumes
The weekly North American rail freight data released by the Association of American Railroads (or AAR) is out for the 41st week, which ended October 14, 2017. The US railroads' overall freight volumes in that week rose 3% compared with the week ended October 15, 2016. 
Total shipments including intermodal units totaled 548,000-plus units in the 41st week of 2017. Last year's volume in the comparable week totaled 532,000-plus carloads, containers, and trailers.
US railroads carried ~10.6 million carloads, up 3.7% for the first 41 weeks of 2017. These railroads hauled 11.0 million intermodal units, representing an equal rise from the levels in the same period in 2016. 
On a cumulative basis until the 41st week of 2017, overall US rail freight volumes totaled 21.6 million carloads and intermodal units, indicating 3.7% growth compared to 2016.
Article continues below advertisement
Ups and downs in commodity groups
Four out of ten carload commodity groups reported volume gains in the 41st week of 2017, including nonmetallic minerals, metallic ores and metals, and chemicals. The commodity groups with volume losses in the same week were grain, coal, and petroleum and petroleum (UGAZ) products. 
The declining coal carloads in recent weeks are a matter of concern for railroads. Coal still stakes a sizeable share in US railroads' overall freight tonnage.
Other North American freight volume trends
Canadian railroads (CNI) (CP) reported a 1.9% drop in railcar traffic to ~80,000 railcars in the 41st week of 2017. Their intermodal volumes registered robust growth of 22.0% to ~71,500 trailers and containers.
In contrast with the freight trend for Canadian railroads, Mexican railroads reported volume gains in railcars but shipment losses in intermodal traffic. Mexican (KSU) railroads saw carload gains of 5.4% totaling 16,000-plus units. Their intermodal units, however, declined 4.8% to ~13,000 units in week 41 of 2017.
We'll start the series with a look at Norfolk Southern's (NSC) freight traffic.