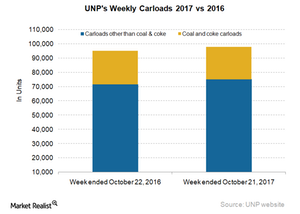 Union Pacific: Commodities that Led Freight Growth in Week 42
UNP's freight volumes
In the week ended October 21, 2017, Union Pacific (UNP) reported 3% growth in its railcar volumes. From 95,000 carloads in the week ended October 22, 2016, the company moved close to 98,000 railcars in the 42nd week of 2017.
Other than coal and coke carloads, which comprised 76.7% of total carloads, expanded 5% in the reported week to more than 75,000 railcars compared with ~71,500 units in the same week last year.
Union Pacific witnessed a 3.4% fall in its coal (CNX) and coke carloads in the 42nd week of 2017. UNP's coke and coal carloads slumped to ~23,000 units in the same week compared with more than 23,500 railcars in the corresponding week of 2016.
Notably, the company's volume growth in percentage terms was much higher than the gains reported by US railroads in week 42 of 2017.
Article continues below advertisement
Change in commodity groups
Union Pacific reported volume rise in the following commodity groups in week 42:
crushed stone, sand, and gravel
farm products, except grain
food and kindred products
chemicals
petroleum products (SLB)
These commodity groups posted volume loss in the same week:
grain
grain mill products
stone, clay, and glass products
motor vehicles and parts
UNP's intermodal traffic
Compared with railcar volume growth, Union Pacific's intermodal traffic growth was much lower. In week 42 of 2017, the company's overall intermodal volumes declined 0.8% to just short of 76,000 containers and trailers from more than 75,200 units in the corresponding week last year.
UNP's intermodal gains, in percentage terms, were far lower than the growth reported by US railroads (XLI) in the given week.
Containers, which account for more than 95% of the intermodal traffic, reported a minuscule rise in volumes in the reported week of 2017. The company's container units reached nearly 72,600, up 0.4%.
Trailer volumes gained 10% to touching nearly 3,300 units in the 42nd week of 2017 compared with 3,000 units the year before.