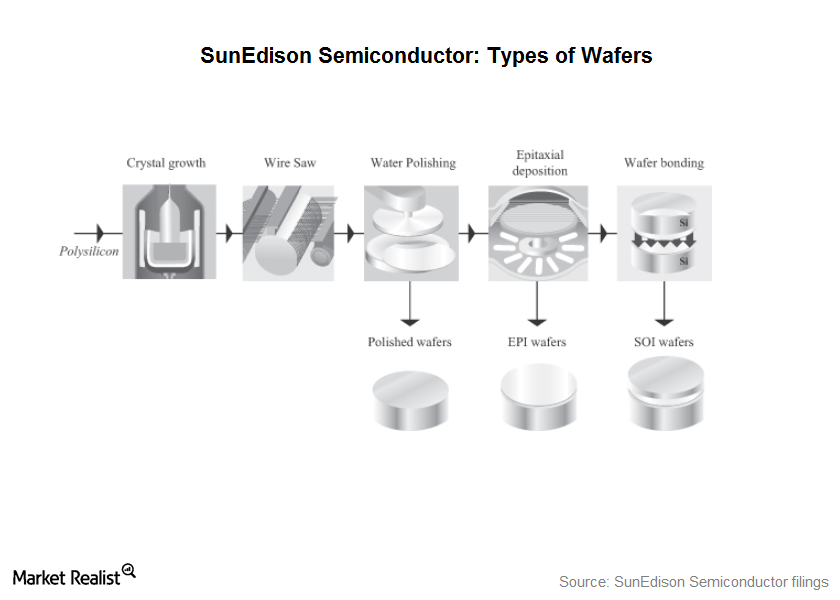 SunEdison's Solar Energy and Semiconductor Businesses
Semiconductor Materials segment
SunEdison Semiconductor, which was SunEdison's (SUNEQ) semiconductor materials segment, manufactures silicon wafers. In July 2014, SunEdison Semiconductor went public on the NASDAQ under the ticker SEMI.
SunEdison Semiconductor has manufacturing facilities in the United States, Italy, Taiwan, Malaysia, South Korea, and Japan. These strategic locations have allowed low operating costs. The geographic locations of these facilities allow shorter delivery times for international customers.
Article continues below advertisement
Acquisition by GlobalWafers
On December 2, 2016, GlobalWafers completed the acquisition of SunEdison Semiconductor for $683.0 million. The amount includes the company's outstanding net debt. Its shareholders received $12 per share in cash, which represents a 44.9% premium to its stock price when the market closed on August 17, 2016, the day the purchase deal was announced. GlobalWafers is a silicon wafer manufacturer based in Taiwan.
SunEdison's wind and solar business
Since the bankruptcy, SunEdison has sold at least $1.0 billion worth of renewable energy (PBW) assets.
Indian company Greenko Energies acquired 1.7 GW (gigawatts) of solar and wind farms from SunEdison in January 2017 for $500.0 million. It was followed by Actis, a private equity firm in London, which acquired 1.5 GW of SunEdison's PV (photovoltaic) assets in Latin America in March for an undisclosed amount.
In November 2016, clean energy peer NRG Energy (NRG) purchased 1.5 GW of wind and solar projects from SunEdison for $183.0 million. Other peers include First Solar (FSLR) and Atlantica Yield (ABY).
Prior to filing for bankruptcy, SunEdison sold 198 MW (megawatts) of solar assets in Japan to BCPG for ~$80.0 million. BCPG is the renewable subsidiary of Thailand-based Bangchak Petroleum (BCP). In the United Kingdom, SunEdison's residential rooftop business was sold to the football club Forest Green Rovers.
Next, let's look at the future prospects for SunEdison.