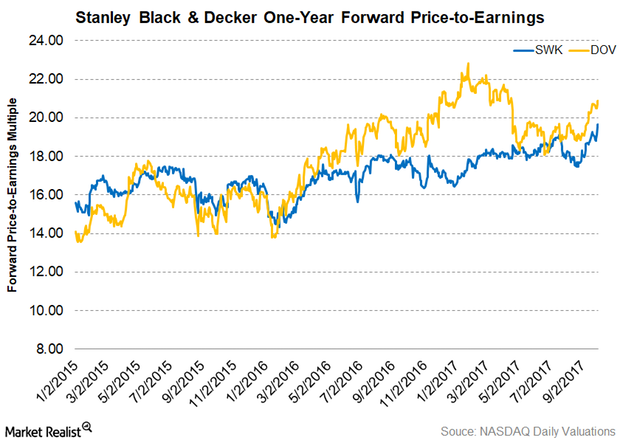 Is Stanley Black & Decker Trading at a Premium or a Discount?
Stanley Black & Decker's forward PE
Forward PE is one of the many valuation methods that consider future earnings at the time of valuation. Investors can make use of this valuation metric to assess two or more companies that are operating in the same industry, so investors can determine which companies are overvalued and which ones are undervalued.
Article continues below advertisement
Is Stanley Black & Decker undervalued?
At present, SWK is trading at a discount to its peer Dover. SWK has reported better-than-expected earnings in 2Q17 and has raised the fiscal 2017 adjusted diluted EPS (earnings per share) guidance in the range of $7.18 to $7.38 as compared to the previous guidance of $7.08 to $7.28. As a result, analysts expect SWK's adjusted EPS for fiscal 2017 to be at $7.30, a 12.2% increase over fiscal 2016 adjusted earnings. Further, analysts are expecting SWK's fiscal adjusted EPS to be at $8.17, which is 11.9% more than the fiscal 2017 expected adjusted EPS.
On the other hand, Dover's fiscal 2017 diluted earnings per share are projected to be at $4.29, which is 31.9% higher than fiscal 2016 earnings. However, for fiscal 2018, Dover's EPS is expected to be at $4.52, which is an increase of 5.4% over the expected fiscal 2017 earnings. Based on fiscal 2018 earnings growth, we can say that Dover seems to be overvalued.
Investors can invest in SWK indirectly by investing in the iShares Morningstar Mid-Cap ETF (JKG), which invests 1.3% of its portfolio in SWK. The other holdings of the fund include Parker-Hannifin (PH) and Rockwell Automation (ROK), which have weights of 1.30% and 1.25%, respectively, as of October 3, 2017.