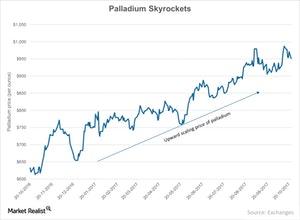 Inside the Palladium Market and the Gold-Palladium Spread
By Meera Shawn

Updated
Scaling prices
Palladium prices have shot up 2017, showing a YoY (year-over-year) gain of a 53% as of October 23, 2017. Palladium is now trading at a 16-year high. On October 23, palladium rose 2.1% and closed at $951.4 per ounce.
Though palladium is a precious metal, it's also an industrial metal. Much of the rally in palladium has likely been due to its strong demand from the automotive industry. Almost 67% of the palladium produced in the world is used in the catalytic converters of cars, and rising auto sales around the world have clearly been a boon to palladium prices.
Article continues below advertisement
Palladium is also used in gasoline-based engines, and the global increase in demand for gasoline-based cars (instead of diesel-based cars) has also given palladium a boost this year—particularly in China and India. However, the US auto sector has not been looking too rosy, though hurricane-impacted areas may see a rise in demand, with people looking to replace ruined cars.
Reading palladium markets
When reading palladium (PALL) markets, it's important to understand the gold-palladium spread, which measures the number of palladium ounces it takes to buy an ounce of gold (GLD). The higher the spread, the weaker palladium is compared with gold.
The gold-palladium spread was ~1.33 on October 23. The price of gold was $1,278, while the price of palladium was $951.4 that day.
RSI level
The RSI (relative strength index) level for the gold-palladium spread is now 41.8. When an RSI level is below 30, there are chances of a rise in prices. When an RSI level is above 70, it indicates that there might be a drop in the asset's price.
Remember, mining companies like Goldcorp (GG), New Gold (NGD), Newmont Mining (NEM), and Eldorado Gold (EGO) are all impacted by fluctuations in these precious metals.