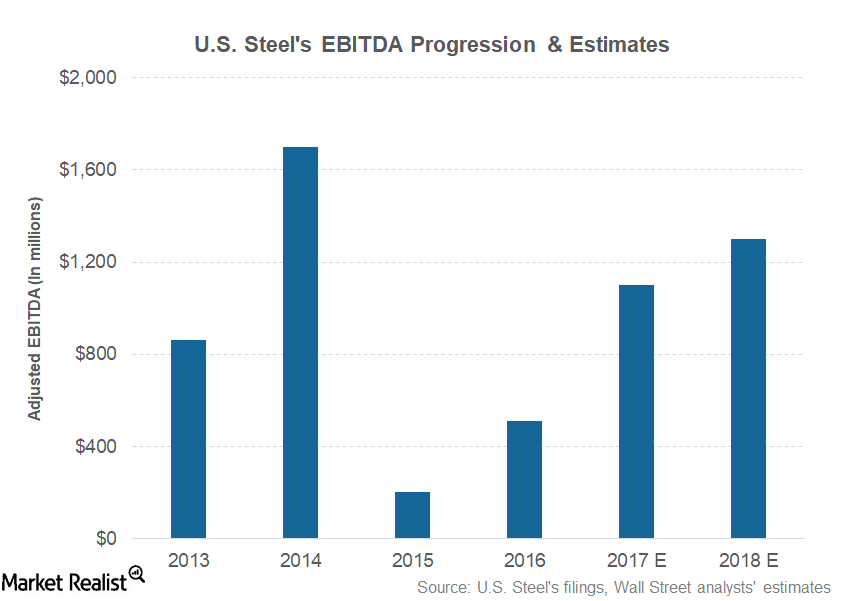 This Could Drive U.S. Steel's 2018 Performance
U.S. Steel's 2018 performance
While valuation multiples can provide us with crucial insights into a stock's relative undervaluation or overvaluation, for steel companies, valuation multiples also depend on commodity cycles. For instance, generally, steel companies' valuation multiples peak when the commodity cycle is about to reverse from its bottom. Similarly, valuation multiples tend to bottom out near cyclical peaks.
Article continues below advertisement
Earnings estimates
U.S. Steel (X) is expected to post an adjusted EBITDA (earnings before interest, tax, depreciation, and amortization) ratio of $1.1 billion this year and $1.3 billion in 2018. To put this in context, U.S. Steel posted adjusted EBITDA of $510 million in 2016.
The company's 2017 earnings estimates are in line with its guidance. During its 2Q17 earnings call, U.S. Steel maintained its 2017 adjusted EBITDA guidance of $1.1 billion. By comparison, Cleveland-Cliffs (CLF) lowered its 2017 guidance during its 2Q17 earnings call, while AK Steel (AKS) gave a profit warning for 3Q17.
Wall Street analysts are projecting a 17.7% YoY (year-over-year) increase in U.S. Steel's 2018 EBITDA. However, we should remember that U.S. Steel's earnings are sensitive to steel prices, and we've seen wild swings in U.S. Steel's EBITDA over the last few quarters.
But whether U.S. Steel is undervalued or overvalued will now likely boil down to the outlook on US steel prices (MT) (NUE). In the next part, we'll look at some of the recent steel industry developments.