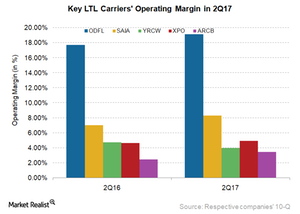 How Did Operating Margins of Less-than-Truckload Carriers Stack Up?
By Samuel Prince

Sep. 27 2017, Updated 5:37 p.m. ET
LTL operating margins
In this article, we'll go through the 2Q17 operating margins of the major LTL (less-than-truckload) carriers. Operating margins largely depend on pricing ability, which in turn is often driven by freight volume changes. Higher operating margins percolate down the income statement and result in better earnings.
In the transportation industry, operating costs play an important role. The companies normally report operating ratio, which is expressed as operating expenses divided by revenues. The change in operating expenses considering the revenue change reflects efficiency in variable cost management.
Article continues below advertisement
Why Old Dominion has a higher operating margin
The above graph shows that among the discussed less-than-truckload carriers (IYJ), Old Dominion Freight Line (ODFL) has the highest operating margin in 2Q17. In fact, the company's margins are way ahead of its peers in the LTL space. Importantly, its operating margins expanded 1.4% in 2Q17.
ODFL's revenues rose 11%, whereas its operating expenses shot up 9.2%. Higher density, pricing gains, and industry-leading variable cost management drove the company's margins higher.
After ODFL, SAIA (SAIA) ranks second in terms of operating margin levels. In the second quarter, SAIA's operating margin was 1.3% higher at 8.3%. Notably, SAIA's revenues jumped considerably by 14.8%, whereas its operating expenses rose sizably by 13.2%. High-single-digit improvement in total LTL shipments and tonnage per workday boosted SAIA's operating margins.
Why did YRC's operating margin fall?
The operating margin levels of YRC Worldwide (YRCW) and XPO Logistics (XPO) were almost the same in 2Q17. However, in contrast with XPO, YRCW's operating margin contracted 0.8% on a year-over-year basis. For YRC, the revenue growth was 4.4%, while the rise in operating expenses was 5.2%. Higher contractual wages along with increased purchased transportation and higher fuel costs resulted from erosion of operating margin.
XPO's 0.3% improvement in operating margin was attributed to the effects of synergies derived from recent acquisitions. ArcBest (ARCB) reported a 1% higher margin in 2Q17. Notably, its revenue growth was 1.1% higher than the rise in operating expenses.
In the next part, we'll look at the per-share earnings of these less-than-truckload carriers.