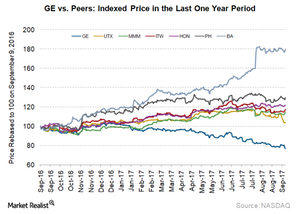 General Electric: What It Has Returned to Shareholders in 2017
By Samuel Prince

Updated
Return to shareholders
In the first half of 2017, General Electric (GE) paid dividends of $4.2 billion and bought back common stock worth $3.6 billion. Despite the sharp fall in GE's price, the company repurchased equity shares worth $1.3 billion in the second quarter. It was much less than the $2.3 billion buyback in the first quarter of 2017.
Article continues below advertisement
GE stock in 2017
It's worth noting that as reported by Bloomberg, JPMorgan Chase (JPM) downgraded its rating for General Electric, with analyst Stephen Tusa revising his target price to $22 per share. In a note on September 7, 2017, Tusa said he saw $24 "as a ceiling as opposed to a floor prior, with something in the high teens as an 'investable fair value.'" After Tusa's comment, GE stock fell to $23.82 per share on September 8, 2017.
In the last year, General Electric has fallen 20.9%. Let's compare that with its peers during the same period:
The SPDR S&P 500 ETF (SPY), which represents a broader market, rose 15.6% in the same period.
Pessimism surrounding GE stock 
When General Electric decided to be a pure play industrial company, it went into transition. Jeffrey Immelt's desire to convert it into an industrial digital company saw the headquarters shift to Boston. Since 2014, GE has been selling off its GE Capital assets and acquiring smaller companies to support its additive manufacturing ambitions. The objective was to bring down costs in the industrial segment's verticals.
The acquisition of Alstom, a spin-off of GE's Oil & Gas division, should have accelerated the company's stock price growth. However, all these efforts haven't translated into raising the stock price. With Imelt out and John Flannery in, the transition period got stretched. General Electric has emerged as the single biggest loser in the Dow Jones Industrial Average in 2017. Weakness in the energy market along with subdued power markets led to high distortions in earnings.
Flannery's plan of action is expected to come out in November 2017. Until then, clouds of uncertainty could keep hovering over GE stock.