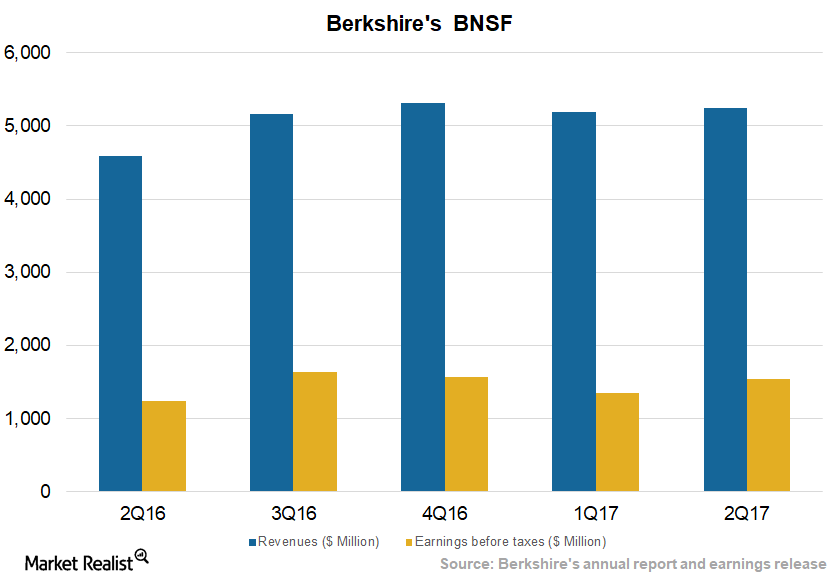 Coal, Industrials to Help Augment Buffett's BNSF Revenues
By Robert Karr

Sep. 27 2017, Updated 10:40 a.m. ET
Growth driver
Berkshire Hathaway's (BRK.B) BNSF Railway saw a rebound in 2017 after a weak performance over the past couple of years due to lower manufacturing output as well as coal output. The trend has changed due to the Trump administration's manufacturing and defense push along with higher natural gas prices, resulting in higher coal consumption over the past few months. Berkshire is expected to see marginal sequential growth in 3Q17 and 4Q17. Warren Buffett continues to invest in BNSF for improving efficiency, coverage of tracks, technology adoption in a bid to improve its business offerings, and operating margins.
Article continues below advertisement
Overall, the industry (XLI) is targeting many initiatives to win back the lost business to road transportation companies and see higher growth in the upcoming years. In 2Q17, BNSF managed a 14.5% rise in revenues to $5.3 billion on a year-over-year basis. In the first half of 2017, BNSF saw a 4.1% rise in average revenue per car unit and a 7.6% rise in volumes. The company also saw a 24.0% rise in tax earnings to $1.5 billion compared to $1.2 billion in the prior year. The rise was mainly due to fuel surcharges, higher volumes, and lower expenses. BNSF is currently operating in 28 US states and three Canadian provinces. The company is competing mainly with Union Pacific (UNP) and is rated in line with Canadian National Railway (CNI) and Kansas City Southern (KSU).
Coal shipments could rise
Coal shipments have risen across the United States mainly due to the recent hike in natural gas prices. In 2Q17, BNSF managed a 39.2% rise in coal shipment revenues and a 30.5% rise in the first half of 2017. The rise was largely due to a volume hike combined with higher average revenue per unit. Freight revenues rose 8.4% and 7.4% for its consumer and industrial products, respectively. The freight for agricultural products rose 18.0% to $1.1 billion, mainly due to a volume increase of 14.5%.