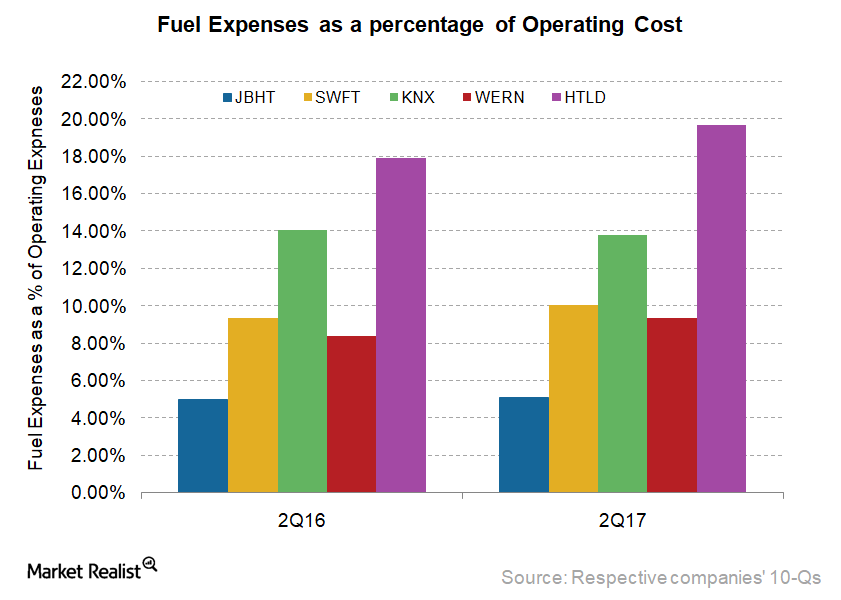 Will the Rise in Crude Oil Benefit US-Based Truckload Carriers?
By Samuel Prince

Aug. 28 2017, Updated 9:07 a.m. ET
Fuel surcharge revenues
Earlier, we examined the employee costs of the truckload carriers in 2Q17. Here, we'll go through the fuel expenses as a percentage of operating costs and the impact of changing fuel costs. Normally, investors should consider the revenue growth of the truckload carriers without fuel surcharge revenues.
Truckload companies (XTN) have an agreement with their clients regarding escalation in fuel costs. These carriers have the mandate to impose fuel surcharges if their fuel costs exceed a specific limit, usually the price per gallon of diesel fuel. These fuel surcharges protect the truckload companies from any abnormal hike in fuel costs. While fuel costs are added to the operating expenses, the fuel surcharge is added to the revenues of these carriers.
Hence, the impact of the change in fuel costs affects the revenues and operating costs. The question remains: Which is better, a reduced scope for fuel surcharges or reduced fuel expenses? 
The inclusion of fuel surcharges in the invoice and its recovery from customers is a normal practice in the trucking industry. Hence, revenues excluding fuel surcharges give a better picture of the truckload's performance.
Article continues below advertisement
Which carrier has the highest fuel cost?
Note that in the graph above, we haven't included Landstar System (LSTR). The company offers asset-light integrated logistics management solutions, and it engages the services of third parties that transport the freight. As a result, the company incurs purchased transportation expenses.
When comparing the average crude oil price in 2Q16 with 2Q17, you can see that it has risen in 2Q17. This trend has resulted in higher fuel expenses for the truck carriers. Among the discussed companies, Heartland Express's (HTLD) fuel cost as a percentage of operating expenses has risen 1.8% in 2Q17 to 19.7%.
HTLD is immediately followed by Werner Enterprises (WERN) with an ~1% rise in fuel cost. Swift Transportation (SWFT) and J.B. Hunt Transport Services (JBHT) registered respective rises of 0.7% and 0.1% in fuel cost as a percentage of operating costs in 2Q17. The only exception was Knight Transportation (KNX), which recorded an ~0.3% drop in fuel expenses in 2Q17.
Normally, fuel expenses of truckload carriers depend on the fleet mix apart from diesel rates. These expenses are also impacted by the percentage of alternate vehicles in the fleet, the age of the trucks, and the use of fuel-efficient technologies.
Next, we'll go through the changes in the adjusted earnings per share of these truckload carriers in 2Q17.