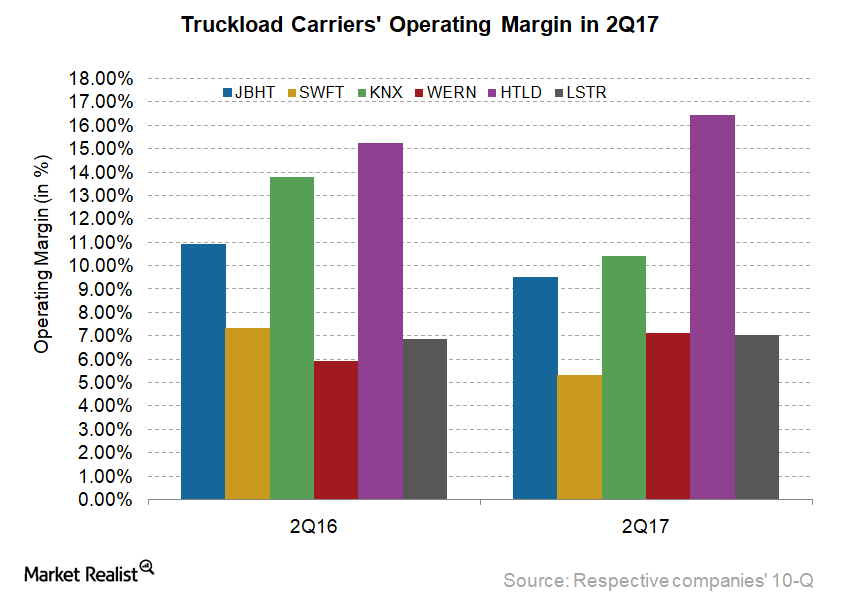 Which Truckload Carriers Saw the Best Operating Margins in 2Q17?
By Samuel Prince

Aug. 25 2017, Updated 10:37 a.m. ET
Operating margins of truckload carriers
In the previous article, we took stock of the 2Q17 revenues of these six major truckload carriers. We also explored the reasons behind the revenue changes. In our top-down analysis, we'll look at the operating margins of these companies. 
In the transportation sector (IYJ), a company's operating margin is an important measure to track performance. The rise in operating margin trickles down and can boost the earnings per share.
Article continues below advertisement
Which truckload carriers' margins rose?
In 2Q17, among the discussed truckload carriers, Heartland Express (HTLD), Werner Enterprises (WERN), and Landstar System (LSTR) reported margin growth. Heartland Express's operating margin grew 1.2% to 16.4% in 2Q17 compared to 15.2% in 2Q16. 
On further examination, we note that the company's revenues declined 19%, and the operating expenses fell ~21%. A higher fall in operating expenses led the margin expansion.
Werner's operating margin expanded 1.2% to 7.1% in 2Q17 from 5.9% in the second quarter last year. The company's revenues grew 4.2% during the same time, while its operating expenses rose 2.9%. This resulted in higher margins for WERN.
Landstar System's (LSTR) operating margins rose 0.2% in 2Q17. Because LSTR mostly depends on third-party carriers, purchased transportation expenses constitute more than 75% of its total operating expenses. LSTR's revenues grew 12.3% in 2Q17, against a 12.1% rise in operating expenses during 2Q16.
Carriers with margin contractions
J.B. Hunt Transport Services (JBHT), Swift Transportation (SWFT), and Knight Transportation (KNX) posted contractions in their operating margins in 2Q17. J.B. Hunt's operating margin declined 1.4% to 9.5% in 2Q17 from 10.9% in 2Q16. JBHT's operating expenses constituted 90.5% of its revenues in 2Q17 compared with 89.1% in 2Q16.
Swift Transportation's operating margins declined 2% to 5.3% in 2Q17 from 7.3% in 2Q16. SWFT's revenues shrank ~2% while its operating expenses rose 0.4% in 2Q16. Knight Transportation's operating margin contraction was the highest among the six companies under discussion. 
The company's margin shrank 3.4%, touching 10.4% in 2Q17 from 13.8% in 2Q16. KNX's operating expenses rose 2.8%, and its revenues declined 1.1%, resulting in a margin contraction.
In the next article, we'll discuss the compensation and benefits expenses of these truckload carriers in 2Q17.