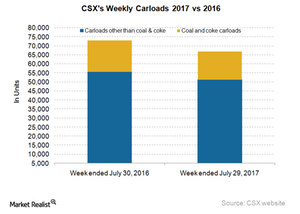 CSX's Railcars Fell but Intermodal Rose in Week 30
By Samuel Prince

Updated
CSX's freight volumes
In the week ended July 29, 2017, CSX (CSX) witnessed a contraction in railcar traffic. The company's total railcar volumes declined 8.3% to ~67,000 railcars from ~73,000 railcars in the week ended July 30, 2016. Compared with rival Norfolk Southern's (NSC) slight dip, CSX reported a sizeable decline in railcar volumes in week 30 of 2017.
CSX's other than coal and coke carloads contracted 7.8% to 51,000 plus from ~56,000 railcars in the 30th week. Even the company's coal and coke carloads (ARLP) plummeted 10% in contrast with the rise recorded by NSC. CSX's coal and coke railcars went down to 16,000 from over 17,000 in the week ended July 29, 2017.
In the 30th week, CSX reported a sharp downfall in railcars compared with the 1.5% slump reported by US railroads overall.
Article continues below advertisement
If we observe the past data since the beginning of 2017, CSX has lost some freight volumes to rival Norfolk Southern. In the 30th week of 2017, grain mill products, chemicals, and farm products noted volume growth. Grain, primary metal products, motor vehicles and parts, waste and nonferrous scrap reported loss of volume.
CSX's intermodal volumes in week 30
CSX saw its intermodal volumes growing at a higher rate compared to its railcar traffic. In the 30th week, the company recorded 5.2% growth in intermodal units on a year-over-year basis. CSX registered ~57,000 containers and trailers in the reported week against ~54,000 units in the 30th week last year.
Container traffic expanded by 5.3% in the reported week to around 55,000 containers from ~52,000 containers. Trailers account for less than 5% of total intermodal traffic. Its volumes rose 3% to 2,000 trailers. In the 30th week, CSX's percentage growth in intermodal volumes was in line with the 6.5% rise reported by US railroads.