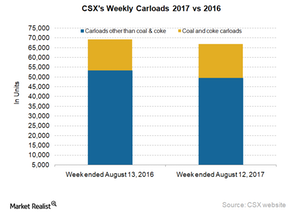 CSX's Intermodal Volumes Rose as Railcar Volumes Fell in Week 32
By Samuel Prince

Updated
CSX's freight volumes
In the week ended August 12, 2017, CSX (CSX), unlike rival Norfolk Southern (NSC), reported a 3.4% volume loss. CSX moved ~67,000 railcars during the week compared with slightly over 69,000 railcars in the week ended August 13, 2016. Note that NSC recorded 5% volume gains in the same week against CSX's 3.4% loss of shipments.
The volume decline came from a 7.2% fall in CSX's carloads excluding coal and coke carloads. In week 32 of 2017, the other than coal (ARLP) and coke carloads were 49,500, whereas they were above 53,000 units in the same week last year. The overall slump in volumes was limited by a 9.5% rise in coal and coke shipments in the 32nd week of 2017. These carloads rose by 1,516 railcars to ~17,500 units in the reported week. On an overall basis, CSX's decline in railcar volumes contradicted the minute rise reported by US railroads in week 32 of 2017.
Article continues below advertisement
Change in commodity groups
Since the beginning of 2017, it seems CSX has lost some freight volumes to rival NSC. In the 32nd week of 2017, grain mill products, petroleum and petroleum products, primary metal products, stone, clay and glass products, and iron and steel scrap reported volume losses.
CSX's intermodal in week 32
In week 32 of 2017, CSX's intermodal traffic expanded 9.5% to ~57,000 containers and trailers from ~52,000 units a year ago. Containers account for more than 95% of total intermodal traffic for CSX. It registered a 10.1% rise in container volumes to ~55,000 units in the reported week compared with ~50,000 units in the 32nd week last year.
In contrast with the container trend, the trailer traffic fell 7.4% in the reported week to around 1,900 trailers from ~2,000 trailers. In the 32nd week, the company's percentage rise in intermodal shipments was higher than the 5.1% growth recorded by US railroads (UNP).