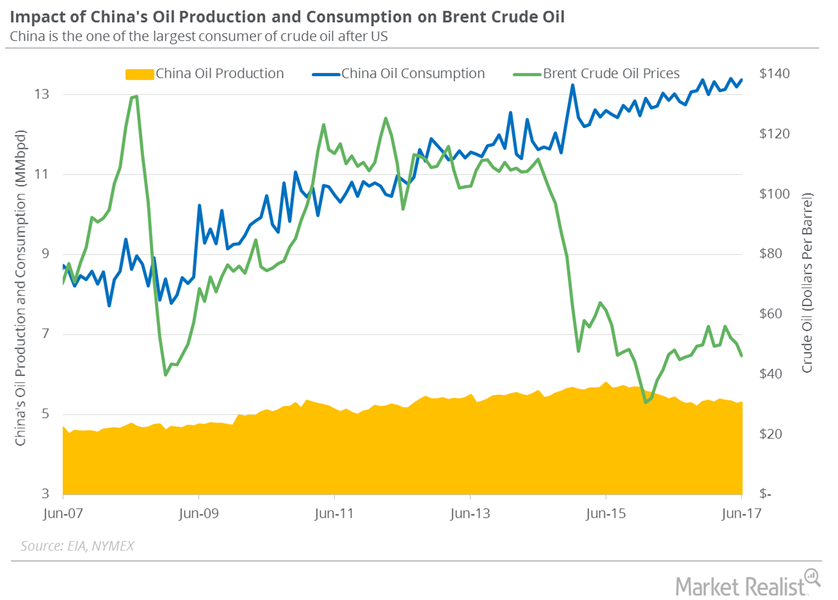 China's Crude Oil Imports Fell to a 7-Month Low
China's crude oil imports
China's General Administration of Customs reported that China's crude oil imports were at 8.18 MMbpd (million barrels per day) in July 2017— 520,000 bpd or 6% lower than May 2017. China's crude oil imports are at the lowest level since January 2017. Imports fell due to the decline in imports from Chinese refiners. Chinese refiners utilized the high Chinese crude oil inventories purchased in 1H17 due to lower crude oil prices.
China's (FXI) crude oil imports are 12% higher than the same period in July 2016—bullish for crude oil (XLE) (RYE) prices. Higher imports from China support higher tanker rates. Higher tanker rates benefit oil tankers like DHT Holdings (DHT), Teekay Tankers (TNK), and Nordic American Tankers (NAT).
Article continues below advertisement
China's crude oil imports in the last six months
China imported 8.55 MMbpd of crude oil in 1H17—the highest level ever. The US imported 8.12 MMbpd of crude oil in 1H17. As a result, China is the largest crude oil importer in the world.
Drivers of China's crude oil imports are mentioned below:
an expansion of Chinese crude oil refinery capacity
aging Chinese crude oil production fields
a rise in demand from the Chinese teapot refiners
building large crude oil strategic petroleum reserves
The rise in China's crude oil imports led to the rise in its crude oil products exports. It's putting pressure on the crude oil and products margin.
Impact
The expectation of a rise in Chinese crude oil imports in 2H17 would support crude oil (SCO) (BNO) prices. Higher crude oil prices have a positive impact on oil producers like SM Energy (SM), Chevron (CVX), and Noble Energy (NBL).
In the next part, we'll discuss crude oil price forecasts and hedge funds' position on US crude oil.