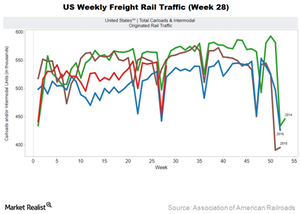 What Pushed US Freight Rail Traffic Growth Last Week?
US freight rail traffic
On July 19, 2017, the Association of American Railroads published the North American rail freight (UNP) data for the week ended July 15, 2017, or the 28th week of the year. For the US, overall freight volumes including intermodal rose 3.8% to 540,000 units last week, up from 520,000 units in the week ended July 16, 2016.
Excluding intermodal volumes, US railcars grew very 0.3% to ~263,000 railcars, compared with 262,000 railcars in the same week last year. But intermodal traffic rose at a much higher rate. US intermodal traffic saw a 7.4% YoY (year-over-year) rise to ~277,000 containers and trailers, up from ~258,000 units.
Article continues below advertisement
Five out of ten commodity groups reported higher volumes in the week ended July 15, 2017. These were nonmetallic minerals, farm products (excluding grain), food, and forest products. Commodity groups that recorded declines included motor vehicles and parts, petroleum and petroleum products (UNG), and grain.
Volumes for the first 28 weeks
For the first 28 weeks of 2017, US railroads posted cumulative volume of ~7.2 million carloads, up 6% compared with the same week last year. Intermodal units during the same period totaled ~7.4 million, up 2.9% from last year.
Overall US freight volume for the first 28 weeks of 2017 was nearly 14.6 million railcars and intermodal units, representing a rise of 4.4% over first 28 weeks of 2016.
Canadian and Mexican railroads' volumes
Canadian railroads (CNI) posted 75,000 railcars for the 28th week, up 10.7% YoY. US railroads reported intermodal units of 67,000 the same week, representing a rise of 13.7%.
Mexican railroads (KSU) recorded over 16,000 railcars for the 28th week, which was down nearly 1% YoY. These railroads' intermodal units came close to 12,000, indicating a 7% YoY rise.
Investors interested in comparing freight rail data week by week can visit Market Realist's US Freight Rail Traffic on Track, but Mexico Stays Derailed.
Continue to the next part of this series for a look at Norfolk Southern's (NSC) overall freight volumes last week.