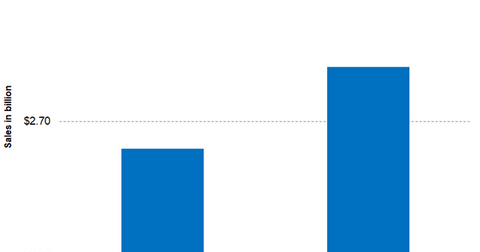 Honeywell's Home and Building Technologies: Why 2Q17 Revenue Rose
By Peter Neil

Updated
Honeywell's Home and Building Technologies segment in 2Q17
Honeywell International's (HON) Home and Building Technologies (or HBT) is a rather new segment. It was formed in 3Q16 from HON's Automation and Control System, which was split into Home and Building Technologies and Safety and Production Solutions. HBT is HON's second-largest revenue generator, accounting for 27.1% of 2Q17 revenue. In 2Q16, the segment accounted for 26.8% of HON's revenue. Reported revenue for HBT in 2Q17 was $2.74 billion, a 2.2% rise on a year-over-year basis. In 2Q16, the segment's revenue was $2.68 billion.
Article continues below advertisement
The segment's revenue growth was primarily driven by higher volumes in its Home and Building Products business and its Home and Building Distribution business. Honeywell's Smart Energy rollouts and air and water product sales in China contributed to the overall sales growth. However, the foreign currency translation had an adverse impact on the segment's revenue.
Net income and margin
The HBT segment reported net income of $420.0 million, a rise of approximately 1.9% on a year-over-year basis. In 2Q16, the segment reported net income of $412.0 million. Again, sales volume growth drove the segment's income. However, HBT managed to maintain its segment margin despite an increase in the segment's cost of goods sold (or COGS). It reported COGS of $1.9 billion, which represented 67.5% of the segment's sale. In 2Q16, HBT's COGS stood at $1.8 billion, which represented 66.8% of sales. Higher sales helped HBT post a net income margin of 15.4% in 2Q17, which was the same as 2Q16.
Segment outlook
The segment's revenue growth depends on the performance of the smart meter and the demand in China. A weakness in the dollar could also help the segment improve its revenue in the upcoming quarters.
You can indirectly hold Honeywell by investing in the iShares Edge MSCI Multifactor Industrials (INDF), which has invested 2.5% of its portfolio in HON. The top holdings of the fund include General Electric (GE), 3M (MMM), and Eaton (ETN) with weights of 8.5%, 3.7%, and 3.6%, respectively, as of July 21, 2017.
In the next part, we'll take a look at the performance of HON's Performance Materials and Technologies segment in 2Q17.