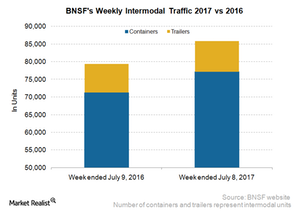 BNSF Railway's Intermodal versus UNP's
By Samuel Prince

Jul. 18 2017, Updated 10:37 a.m. ET
BNSF's intermodal volume in week 27
BNSF Railway's (BRK-B) total intermodal volumes (containers and trailers) rose 8.3% in the week ended July 8, 2017. The company moved ~86,000 intermodal units that week, compared with over 79,000 units in the week ended July 9, 2016.
A further breakdown of intermodal volumes reflects containers grew at a faster rate than trailers grew. While BNSF's containers rose 8.4% to ~77,000 units, trailers gained 7.4% to ~9,000 units in the 27th week of this year.
On the intermodal front, BNSF Railway left behind rival Union Pacific (UNP) in terms of percentage volume growth in the reported week. While US railroads reported a 3.7% rise in intermodal traffic, BNSF's 8.3% gain stole the show.
Article continues below advertisement
BNSF's cumulative intermodal volumes
In the first 27 weeks of 2017, BNSF reported the maximum percentage gain in volumes among all its Class I peers. Compared with the 2.7% gain in intermodal volumes by US railroads, BNSF posted a 5% rise in the same category.
Containers account for roughly 90% of total intermodal volumes, and BNSF reported 5.4% volume gains in containers, compared with its 2.4% rise in trailer traffic. Other Class I railroads reported a higher rise in trailer volumes than in containers in the first 27 weeks of the year.
Domestic intermodal
On the domestic intermodal front, BNSF hopes to convert a portion of its ~8.0 million truckloads over the next few quarters.
Intermodal growth for railroads also depend on consumer spending, highway-to-rail conversions, and momentum in the international market. Higher fuel prices also drive railroad intermodal business. In the current scenario, the intermodal growth for all US Class I railroads is expected to remain subdued.