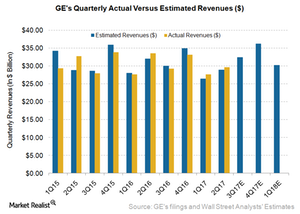 Behind General Electric's 2Q17 Revenue Slump
By Samuel Prince

Updated
GE's 2Q17 revenue
General Electric (GE) proved analysts wrong by surpassing their 2Q17 revenue estimates of $28.9 billion. 
However, the most vivid aspect of GE's second-quarter results was the 12% fall in its quarterly revenue. The company clocked $29.6 billion in revenue in 2Q17, compared to $33.4 billion in 2Q16.
General Electric's Industrial revenue was $27.1 billion in 2Q17, a fall of 12%. Its Industrial segment saw a fall of 2% on a reported basis, though it rose 2% organically, mainly on account of the disposition of its appliances business line.
Article continues below advertisement
Orderbook position
In 2Q17, overall industrial orders rose 6% compared to 2Q16, and they rose 5% organically. On a positive note, equipment orders rose over 9%, and services orders rose 4% for General Electric in 2Q17. Total orders were $28.3 billion in the reported quarter. Equipment orders were $14.1 billion, and service orders were $100.0 million higher than equipment orders.
The 1% fall in power equipment orders halted GE's equipment order growth in the quarter. On the service side, robust aviation orders were partly offset by fewer orders in oil and gas (UGAZ) and renewables.
Management's thoughts
According to Jeffrey Immelt, GE's CEO, "Organic revenue was up 2% and margins were up 10 basis points in the quarter. Year to date, organic revenues up 4% and margins were up 70 basis points. Service revenue is up 8% year to date. So here are some key revenue highlights."
Immelt continued, "Global revenue was up 7%, with growth in 9 of 12 regions. Europe grew by 15%, China by 16%, India by 35%, and MENAT by 15%. For the half, we had organic service growth in all segments."
Peer group 2Q17 revenue
Among General Electric's peers, Honeywell International (HON) reported revenue of $10.1 billion, exceeding the company's guidance. HON even raised its 2017 guidance to ~$40.0 billion.
Illinois Tool Works (ITW) reported a 4.9% rise in its 2Q17 revenue to $3.6 billion due to its acquisition of Engineered Fasteners & Components last year. United Technologies (UTX) and 3M Company (MMM) were set to release their 2Q17 earnings on July 25, 2017.
In the next article, we'll discuss the 2Q17 results of GE's Aviation segment.