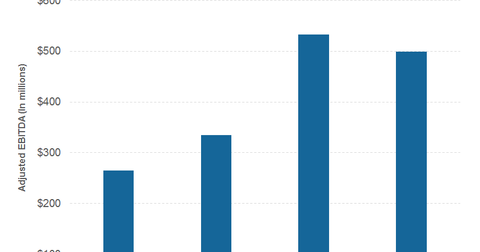 Alcoa or Arconic: Which Stock Performed Better Since the Split?
By Mohit Oberoi, CFA

Updated
Alcoa versus Arconic
Alcoa (AA) and Arconic (ARNC) are now independent corporate entities. Furthermore, the two companies operate in different businesses. While Alcoa is a pure-play aluminum producer (CENX), Arconic is an engineering company producing value-added products (WWD). Commodity prices are the key drivers of Alcoa's performance. On the other hand, Arconic investors don't have many worries about metal prices (XME).
It's been more than eight months since Alcoa and Arconic split from the consolidated Alcoa Corporation. In this article, we'll look at Alcoa and Arconic's price action since the split. We'll also see which stock has outperformed after the split.
Article continues below advertisement
Post-split performance
Alcoa is up 47.8% since the split while Arconic has gained only 1.8% based on June 30's closing prices. The divergence in both companies' performance isn't difficult to explain. While Alcoa's price action has been boosted by higher aluminum prices, Arconic has been plagued by concerns over the aerospace sector.
Looking at their 1Q17 performance, Alcoa's adjusted EBITDA (earnings before interest, tax, depreciation, and amortization) rose to $533 million in 1Q17—compared to $315 million in the sequential quarter. However, Arconic's 1Q17 EBITDA was almost unchanged from its 4Q16 EBITDA. Higher metal prices boosted Alcoa's 1Q17 earnings.
Company-specific issues
Furthermore, Arconic has been surrounded by some company-specific issues. Earlier this year, the company was involved in a bitter fight with its biggest shareholder, Elliott Management. The stock saw negative price action toward the end of June on reports that it supplied parts for Grenfell Tower in London.
Meanwhile, with Alcoa's split eight months into the past, the key question is: has the split added shareholder value? We'll discuss this topic in the next part of this series.