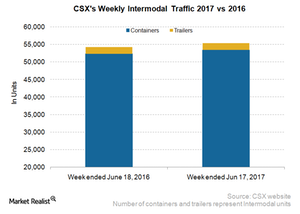 Comparing CSX's Week 24 Intermodal Growth with the Industry's
CSX's intermodal volumes
CSX Corporation's (CSX) intermodal volumes trended in contrast with other freight volumes in week 24. In the week, the company's intermodal volumes rose 2.1%. Its total intermodal volumes came in at over 55,000 containers and trailers, compared to over 54,000 units in the same period last year.
Container volumes rose 2% while trailer volumes rose 3.8% in the reported week. Compared to rival Norfolk Southern's intermodal volume growth (NSC), CSX's was quite low. In fact, the company's intermodal traffic growth was also lower than the overall growth reported by US railroad companies in the week ended June 17, 2017.
Article continues below advertisement
CSX and intermodal volumes
CSX's intermodal revenue rose 7% in 1Q17. Buoyed by this growth, the company now expects higher year-over-year intermodal revenue in 2Q17. The intermodal business for any railroad company, including CSX, can be broken down into domestic and international.
The growth in the domestic intermodal businesses of companies such as CSX remains a cause for concern due to moderate fuel prices, which, until now, have kept rail intermodal traffic unattractive compared to transportation by truck. In the domestic intermodal space, CSX anticipates a few short-haul volume losses in the coming quarters.
The rise in CSX's 1Q17 international intermodal volumes suggests future business growth on that front, compared to domestic intermodal growth. The company hopes that the implementation of trucking regulations will lead to a contraction in truck capacity (JBHT).