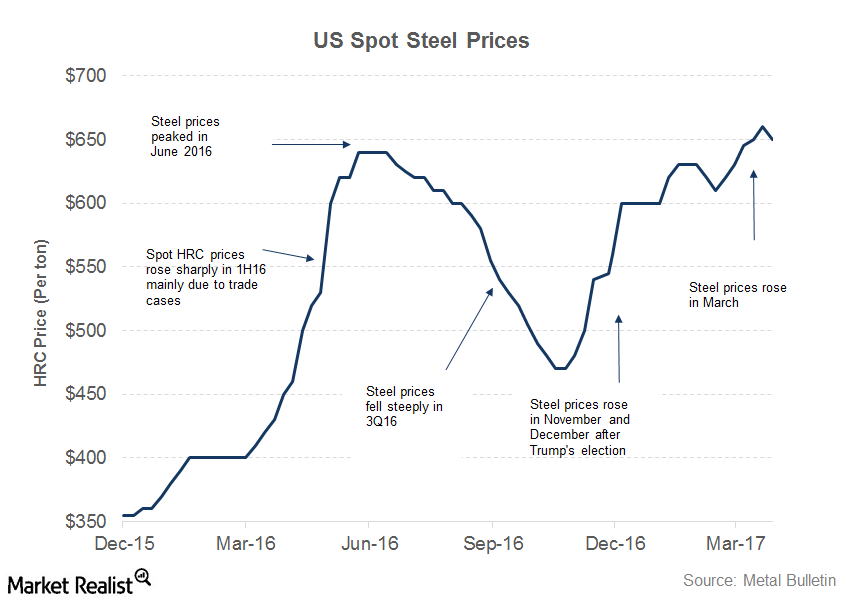 Why U.S. Steel Might Have to Hope for a Trump Second Term
By Mohit Oberoi, CFA

May. 1 2017, Updated 10:36 a.m. ET
U.S. Steel
U.S. Steel (X) is working on an "asset revitalization plan." According to the company, investment in this program will be $300 million higher this year than last year. During its 4Q16 earnings call, U.S. Steel noted that the spending under the program this year would be $200 million higher on a YoY (year-over-year) basis. Essentially, the company now expects to spend an incremental $100 million to put its facilities in order.
Article continues below advertisement
Higher spending
Meanwhile, U.S. Steel's investors might have to brace themselves for higher maintenance costs in coming years. Mario Longhi, U.S. Steel's CEO (chief executive officer) noted the following during the company's 1Q17 earnings call: "This is a multiyear plan that will take three to four years till full implementation."
However, Longhi also noted that the plan "is not just sustaining capital and maintenance spending," adding that "these projects will deliver both operational and commercial benefits."
Long term
To be sure, U.S. Steel seems to be working on projects that could enhance its ability to offer more value-add products (AKS) (MT) to its customers including those used in automotive applications (ATI). However, the company appears to be missing out on capitalizing on the current uptick in US steel prices.
Although the company could realize the benefits of its current investments in the long term, one is never sure of the market conditions in, say, 2019 or 2020, given the level of volatility in steel markets (XME). U.S. Steel might need a supportive administration in the White House for longer than four years to realize the full benefits of its current investments.
Continue to the next and final part for some concluding thoughts.